Whether plump or thin almost all
of them had loosened skin
draping along their upper arms,
crinkled flesh that swayed
as they sat on the piano bench
or stood, flour-covered
at the kitchen counter, rolling
crust for rhubarb pies or dough
for raisin cinnamon bread.

They came from Midwest farms,
southern hills, potato fields
in Ireland, places we never knew.
We wondered how they grew those
wings and would we ever get ours.

My own grandmother was solid
and sensible as the sturdy
Sears catalogue shoes she wore,
genuine as the 1870 silver dollar
she kept, a gift from her father.

She read us stories my busy
mother of five had no time for.
Once she cried on my shoulder
when her brother died, but mostly
she was the one who held out comfort
like the soft patchwork quilts
she pieced from scraps.

No mere nostalgia, our memories
of these women are real
as the smell of fresh-baked bread
cooling on the window sill,
apron pockets full of sweets,
and the pendulous swing of their arms
as they worked the wheels
of old black Singers,
stirred batches of strawberry jam
or played the piano,
their wings fleshy metronomes
that swung and gently kept time
to the long hours we spent
in our grandmothers' shadows
growing wings of our own.

© by Christine Vovakes.
Used with the author's permission.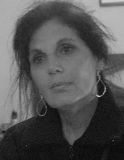 Christine Vovakes is a Northern California poet and freelance writer who grew up loving the tactile vividness of poetry. Hoping to instill that love in her children, she often read poems to them from the illustrated anthology, Talking to the Sun. Christine knew she was making inroads the day her son requested, "Mom, read me the one about how good the wind felt on a boy's feet." Christine's poems, articles, and photographs have appeared in publications ranging from the Journal of the American Medical Association and Christian Science Monitor to Boston Literary Magazine and the San Francisco Chronicle.
Meggily:
Thanks, Christine, for revisioning my metronome wings!
Posted 09/22/2015 05:45 PM
wordlover:
I'm glad somebody finally wrote a poem about older women's wings. What's inevitable needs poetic attention.
Posted 09/13/2015 08:13 PM
Katrina:
I love it when children ask for a story that does not exist and you have to make one up. Sometimes they come out in poetry.
Posted 09/13/2015 07:35 AM
Lori Levy:
Beautiful poem.
Posted 09/12/2015 12:42 AM
ghctenmile@earthlink.net:
Thanks for introducing me to your poems--I searched out other ones after reading Our Grandmothers' Wings. I look forward to reading more.
Posted 09/11/2015 11:53 AM
barbsteff:
This is a last-generation picture of a grandmother, I think. Today it might apply to great grandmothers.
Posted 09/11/2015 11:31 AM
rhonasheridan:
I love being a Grandmother. My wings are in fine fettle. Ready for flight. There are one or two here that could manage an airliner! Loved the poem. So do my winged companions
Posted 09/11/2015 08:56 AM
Cindy:
My grandma had these wings also and we used to sit beside her and flap them back and forth. I think she was a lot like your grandma.
Posted 09/11/2015 08:56 AM
Larry Schug:
Both my grandmothers died before I was born, but somehow I know they were the grandmothers in this fine poem. Somehow, they live inside me and this is the beautiful way I'd like to picture them. Thank you so much, Christine.
Posted 09/11/2015 08:19 AM
paradea:
I absolutely love this poem. Great images for remembering the truly great women...our grandmothers!!
Posted 09/11/2015 07:30 AM