Sprawled on grandma's bed
across the quilt her grandmother made,
the little girls nap after an August lunch.
Cheeks flushed, eyelashes shadowy
as spider threads on silk,
their thumbs creep to rosy lips
pursed, already sucking.
The angels-unaware haven't yet learned
they are the fifth generation to race
screaming with joy in this back yard
crammed with roses and apple trees and spearmint.
After their naps they play
on the flagstone patio
under conversation of uncles and aunts.
They will only realize when much older
that the grandma who makes up
silly stories and sings in her funny
cracked voice played on these same
garden paths while visiting her grandmother.
The grown-ups, sipping cold drinks
and mopping up little-finger spills,
watch time speed in the sturdy bodies
of the babies.
This poem first appeared in Song of the San Joaquin (2009).
Used here with the author's permission.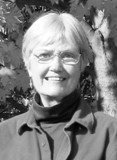 Patricia Wellingham-Jones is a former psychology researcher and writer/editor with poetry widely published in journals, anthologies and Internet magazines. Author of ten books, her work appeared most recently in The Widow's Handbook (Kent State University Press). Patricia has a special interest in healing writing and leads a cancer center writing group. She lives in Los Molinos, California.
 
penhart:
Love this poem, Patricia!
Posted 09/17/2015 08:35 AM
rhonasheridan:
I really feel that is the proper way to live
Posted 09/14/2015 11:34 AM
Shoshauna Shy:
I love the part about watching time speed....I have nieces I remember as babies, and now they're having babies, so this resonates with me!
Posted 09/13/2015 02:53 PM
Katrina:
It is beautiful when one of the 'grown-ups' "gets it"!
Posted 09/13/2015 07:30 AM
fuddygail:
fuddygail oh, that was delicious!
Posted 09/13/2015 02:50 AM