Iíd not noticed
the word had gone on vacation,
slipping off unannounced
to some uncharted precinct
of my brain with which
Iím not at all familiar.

I only realized it
was away while involved
in a conversation which
could not continue
without its participation.

A few hours later,
after a cheap flight back
from the Isle of Aphasia,
it unpacked its overnight bag
and asked,
Did you miss me?
†
†
†
From†The Secret History of New Jersey (Northwind Publishing, 2009).
Used with the authorís permission.
†
†
†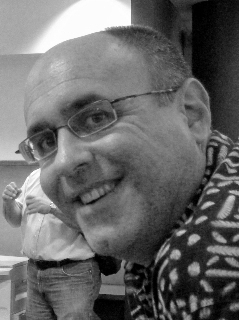 Tony Gruenewald lives in New Jersey, where he works as production director for Learning Ally, the nation's largest library for accessible textbooks and educational material for people who are blind or visually impaired or have a print disability such as dyslexia. His collection,†The Secret History of New Jersey, was published by Northwind in 2009. Tony's poems have been seen in†Edison Literary Review,†Mas Tequila Review,†U.S. 1 Worksheets,†English Journal,†The New York Times, and†Slow Trains. Learn more about him at†tonygruenewald.com.
†
Richard Greene:
Glad to see your wit and sense of humor haven't gone on vacation. We participated in open mic readings together at the Barnes Noble in Princeton about a decade ago. Best, Dick Greene
Posted 09/17/2015 01:46 PM
rhonasheridan:
Such a delightful poem and it really hits the problem on its head. Loved it
Posted 09/17/2015 09:01 AM
jtmilford:
Boy! can I appreciate your excellent description of Aphasia written with your great sense of humor. Thanks
Posted 09/16/2015 08:26 PM
Jean :D:
This is the greatest!!! I have a lot of my words in the uncharted precinct of my brain. Sure glad to know where they go!
Posted 09/15/2015 01:55 PM
barbsteff:
Good one! I can relate.
Posted 09/15/2015 11:44 AM
Lori Levy:
Great image of the missing word going on vacation!
Posted 09/15/2015 11:40 AM
pwax:
On vacation, yes. The idea is carried throughout the poem so well!
Posted 09/15/2015 10:54 AM
erinsnana:
love it!
Posted 09/15/2015 10:44 AM
loisflmom:
Oh, so it's not just MY words that go on vacation!
Posted 09/15/2015 09:26 AM
Cindy:
Yes, that is exactly how it goes.
Posted 09/15/2015 08:37 AM
paradea:
Hahahahahaha!!! Ingenious poem!! Love it.
Posted 09/15/2015 08:03 AM
Walcottjm:
Oh, I know about those vacations to the Isle of Aphasia!
Posted 09/15/2015 07:36 AM
r1manchester:
really excellent....ah,...what's the word...ah...oh, yeah, portrayal of what happens now and then.
Posted 09/15/2015 03:59 AM
fuddygail:
I've been there...fine poem...
Posted 09/15/2015 02:21 AM