Each day will only be another day.
Traffic starting, stopping, on I-85.
Where the feeder hangs, under an old live
oak, birds cluck and mutter, as if to say

things are fine, that it will all be okay,
things work out if we only let them be.
Inside, a woman shrugs, thinks Fine with me . . . .
Another cup of coffee would be nice.

Without a moment's pause, not thinking twice,
She pulls her curtains open, waits to see.
© by Phebe Davidson.
Used here with the author's permission.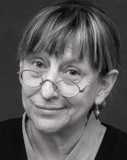 Phebe Davidson is a recovering academic, the author of twenty-some published collections of poems, a contributing editor at Tar River Poetry and a staff writer for The Asheville Poetry Review. Her latest book is What Holds Him to this World (Ninety-Six Press, 2014), which was awarded the 2013 South Carolina Poetry Archives Book Prize. A native of New Jersey, she now lives in Greenville, SC.
Lori Levy:
Soothing!
Posted 09/19/2015 09:56 PM
Gilbert Allen:
I like the skillful modulation of the pentameter lines and the way "as if" resonates with the poem's final sentence. Well done, Phebe!
Posted 09/19/2015 09:34 AM
r1manchester:
as she herself would say, Brava!
Posted 09/19/2015 05:26 AM
Donal Mahoney:
Writing this beautifully looks so easy. Every day I wish it were. Magnificent.
Posted 09/19/2015 03:54 AM