Fallen acorns
& pocket-smooth buckeye
Fall as thuds into large yellow hands
Of sleeping sycamore leaves,

Brown trout sway
Amid emerald rock hung mosses
Set in icy clear water flows, undisturbed
By man.

Rainbow leaves
One by one float by as boats
Which glide down freely upon
Crystal branch waters

& swirl again, sailing
Away into wintry white foam
Of the bald waterfall
Found below.


© by Elizabeth Perdomo.
Used here with the author's permission.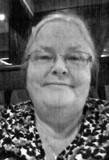 Elizabeth Perdomo has lived and written in the Rio Grande Valley of South Texas for the past fourteen years, moving to the region from the Rio Grande Valley of New Mexico. Born in Kansas and raised both there and in Colorado, Elizabeth also lived in the southeastern U.S. for a number of years, where her three daughters were born and homeschooled. The author of One Turn of Seasons, featuring poetry about people and places in East Tennessee, Elizabeth has been writing poetry since her teen years, on topics that include local place and culture, cooking, gardening, ecology and nature, traditions, spirituality, and more.
o the truitt of it all:
We like this poem. E writes a lot of good work.Should publish a chapbook
Posted 09/18/2015 03:31 PM
ElizabethP:
Thank you all for your kind comments. :-) Our family was camping in this lovely area of East Tennessee one autumn, when this piece was written.
Posted 09/18/2015 01:35 PM
Lori Levy:
Beautiful!
Posted 09/18/2015 11:59 AM
Katrina:
Lovely!
Posted 09/18/2015 10:32 AM
John:
Makes me wish I were on the banks of the North River.
Posted 09/18/2015 08:22 AM
rhonasheridan:
How beautiful.
Posted 09/18/2015 03:55 AM