I mourn
for the green
leaf that,

in the wind,
loses its hold
on the branch

it suckles,
that will
shrivel

and brown,
lost
in the tall grass

where the chicory blooms,
never knowing
autumnís gold.
© by S. Thomas Summers
Used with the authorís permission.
†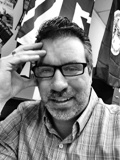 S. Thomas Summers is a professor/teacher of literature, writing, and philosophy at Wayne Hills High School and Passaic County Community College, both in Northern New Jersey. Much of Summers' poetry finds its foundation in the hills and forests that surround his home. Via his poetry, Summers hope to capture what is easy to see, but often difficult to notice. He is the author of two Pushcart nominated books, Private Hercules McGraw and The Journals of Lt. Kendall Everly, both stories of the American Civil War. He blogs at www.inkhammer.wordpress.com.
Calensariel:
I love S. Thomas Summers' poetry. It never fails to awaken the little girl still rattling around my insides. He's great!
Posted 09/23/2015 07:29 AM
Meggily:
cold be overly sentimental, but isn't. I like the shriveled image
Posted 09/22/2015 05:16 PM
Lori Levy:
Beautiful idea and poem.
Posted 09/22/2015 04:44 PM
ElizabethP:
Beautiful! Thank you for sharing this one.
Posted 09/22/2015 10:16 AM
mimi:
alovely...I seem to have coined a new word... of course I meant A LOVELY poem and it was, so I'll say it twice!
Posted 09/22/2015 08:36 AM
paradea:
This is beautiful.
Posted 09/22/2015 06:43 AM