is the weather forecast
five minutes on the computer
I chase the arrow
as it sets me sliding then sludging
through a bog of e-mails
I take a break on Facebook
where I float
for minutes on end
when I remember a message
I've forgotten to send
the arrow glides toward my account
then jumps flies away and hits
a pop-up of recipes
I grip the mouse
but the cursor soars
to a sale of shoes handbags
cookware cocktail attire
hits a link singing
You're today's winner
while flashing neon red
then tracks a trail back
and forth here and there
dragging me from
a five-minute plan
to check the weather
through an hour of wandering
computer mouse leading the way
and I still don't know
if it's going to rain.
This poem first appeared in Blue Hour Magazine (2013).
Used here with the author's permission.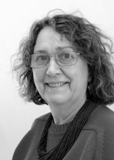 Marcia J. Pradzinski is a Chicago native who now lives in Skokie,Illinois. Having taught English in the International Teaching Assistants program in Chicago for many years, Marcia has always loved words in their many contexts: in print, in songs, and in foreign languages such as Polish and Ukrainian, which she heard spoken while growing up. Her poems have appeared in print journals and anthologies and online. Marcia has a brand new chapbook, Left Behind, just out from Finishing Line Press.
rhonasheridan:
Oh-so true. Every word. It really hits the nail on the head! Great poem.
Posted 09/24/2015 01:10 AM
Nancy T:
Oh, I really like this. That's exactly what happens. But I love it. Not the wasting of time which I sometimes regret, but the connectedness of Facebook, the instantaneous access to information in a Google search, and finding out whether it will be cool enough in Dallas to walk outside at 7:30 in the morning. Thanks, Marcia, for this poem.
Posted 09/23/2015 05:06 PM
Jo:
For sure, Marcia. We've all been there--will be again.
Posted 09/23/2015 03:58 PM
Jean :D:
Who Me? Couldn't be! Oh yeah, it sure is. Even my brother in OH who doesn't like poetry loves this one!!!
Posted 09/23/2015 03:24 PM
Wilda Morris:
Yep! That just happened to me, and I ended up here! Thanks for the smiles.
Posted 09/23/2015 02:27 PM
Donni:
I can soooo relate!!
Posted 09/23/2015 09:14 AM
mjs.ontheroad@gmail.com:
Brilliant! --and all too familiar!
Posted 09/23/2015 09:14 AM
KevinArnold:
Fun.
Posted 09/23/2015 08:32 AM
ladybug:
Fun poem, Marcia! Susan
Posted 09/23/2015 07:56 AM