They swing
on the tree like
golden bells; around
them, air ripens the
color of bronze. Cool
smooth skin,
impervious to touch.
Softening from the
inside out, the opposite of the
stone fruits, peaches, apricots, plums.
Their bottoms swell, hips swaying like
maracas in the autumn breeze, the smoke's
blue haze. Slip a thin knife into the skin;
cut small wedges. This is the only way you
can eat the sun. Unpicked, they'll crash
to the ground, oozing and liquid, whirl
wasps into drunkenness, melt like
early snow on the lawn.
From Small Rain (purple flag, 2014).
Used here with the author's permission.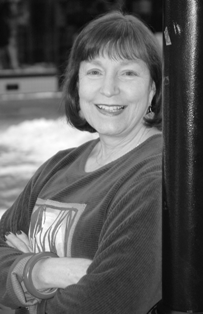 Barbara Crooker's poems have appeared in numerous magazines, journals, and anthologies and have been featured on the BBC, the ABC (Australian Broadcasting Company), The Writer's Almanac, and in the Poetry at Noon series at the Library of Congress. Her awards include the Thomas Merton Poetry of the Sacred Award, three Pennsylvania Council on the Arts Creative Writing Fellowships, fifteen residencies at the Virginia Center for the Creative Arts, a residency at the Moulin à Nef in Auvillar, France, and a residency at The Tyrone Guthrie Centre in Annaghmakerrig, Ireland. Barbara lives in Fogelsville, Pennsylvania; read more about her at www.barbaracrooker.com.
wordlover:
As usual, Barbara, this poem of yours is juicy.
Posted 09/29/2015 05:28 PM
transitions:
Can 'taste' this wonderful poem!
Posted 09/28/2015 04:15 PM
Lori Levy:
Beautiful! Really like "Their bottoms swell, hips swaying like/maracas in the autumn breeze."
Posted 09/28/2015 03:43 PM
Mary Lou Taylor:
I'll be reading more of your work. Wonderful images.
Posted 09/28/2015 01:50 PM
Jo:
Another stunning poem,Barbara.
Posted 09/28/2015 12:55 PM
davenbev@huntel.net:
Colorful and juicy!
Posted 09/28/2015 09:40 AM
erinsnana:
I love this shape poem!
Posted 09/28/2015 09:28 AM
Marilyn L Taylor:
Barbar is incapable of writing anything but stunning poems. This is yet another one.
Posted 09/28/2015 09:15 AM
paradea:
So good, I can taste it. Love this poem!!
Posted 09/28/2015 07:32 AM
Barry:
Beautiful!!
Posted 09/28/2015 07:11 AM
mimi:
delicious poem!
Posted 09/28/2015 07:08 AM
Katrina:
'This is the only way you / can eat the sun.' - I love it!
Posted 09/28/2015 02:06 AM
rhonasheridan:
Extremely descriptive. Lovely
Posted 09/28/2015 01:13 AM