No one comes and goes
in secret on a gravel road
not with dust plumes
roiling behind like
smoke-breathing dragons
 
By autumn
the weeds lining the ditches
are singed a rusty orange
and furry with worm webs
 
But it's familiar, every curve
and wide place, each dip and rise
the soft spot where it washed out
that time it rained so hard

It's the way home
or the way out


From Ekphrasis (2012).
Used here with the author's permission.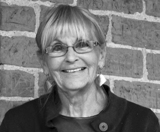 Ginny Odenbach taught elementary, high school, and college students in Nebraska and Wyoming. Now retired, she lives in southwest Nebraska. Ginny has three children, three grandchildren, and seven grand dogs, all of whom are scattered from the Midwest to the West coast, making her a somewhat frequent flier. She is the author of eight books of poetry and coauthor of three books for young readers and resource guides for teachers. Ginny's latest work is Ekphrasis, a book of art and poetry created with artist Don Schaaf. When not writing, gardening, or traveling, she enjoys making handmade journals and cards—anything with paper.
KM:
This brings back muscle and bone memory ofa country road I drove for seventeen years. Thank you for sharing this.
Posted 10/25/2015 04:26 PM
Jancan:
This lovely, descriptive poem takes me back to the days when all roads around me were dirt and gravel. Good simile Janice
Posted 09/30/2015 09:45 PM
Kbc:
Reminds me of the dirt road I'd see from classroom windows. Moms and Dads went up and down, sometimes turning into the school to bring some forgotten thing to one of the pupils.
Posted 09/30/2015 08:03 AM
barbsteff:
Excellent! Precise recall of gravel road details.
Posted 09/29/2015 11:05 AM
erinsnana:
I can hear the tires crunching on the gravel!
Posted 09/29/2015 09:27 AM
Cindy:
My gravel driveway is so old it is more dirt, but I am still reluctant to replace it with blacktop. Good poem.
Posted 09/29/2015 08:51 AM
cork:
I have the only gravel driveway in the neighborhood and have turned down many offers to improve it with blacktop. Yes, our cars get a bit dirty at times.
Posted 09/29/2015 08:29 AM
Barry:
Good open, good close, good middle, and nostalgic, if you have ever lived down a gravel road, but don't anymore. Great poem!!
Posted 09/29/2015 08:27 AM
Larry Schug:
I was sad when our gravel road was tarred a number of years ago. Every walk on it was a treasure hunt for agates. All I find on the tarred road is squished frogs and other dead creatures. The first two lines of this poem are awesome (as is the rest).
Posted 09/29/2015 08:00 AM
paradea:
Good one!
Posted 09/29/2015 07:56 AM
KevinArnold:
Yes!
Posted 09/29/2015 07:46 AM
Donal Mahoney:
As someone reared in Chicago who later in life moved to rural Missouri, this poem resonates for me in ways it might otherwise have not. I would think moving from the country to the city at any time would always be a far bigger transition. All I had to do in the country was wear a John Deere cap and not talk since my "dialect" would have betrayed me. Still does but I could not go back to Chicago, the memories of which I still love. Thanks for writing and presenting this poem.
Posted 09/29/2015 02:38 AM