Fall waited all night for me,
and yelled "surprise,"
when I finally opened the door
and stepped out into the
bright, clear, bellwether day,
in which the sun, that old magician,
burned his fire with no heat.

Later, crossing the bridge
on the way to work,
the sun still looked cold enough to touch
above the corrugated Mississippi,
combining commerce and art
into a living diorama,
laid out beneath me like a postcard scene.

But by noon
a couple of logs
had been thrown on the fire,
softening the chill in its brilliant glow.

After work,
I sat on the levee sipping a brew
and watching the orb drop beneath the rim
like a curtain coming down
on the greatest free show on earth.

But at night,
when I pulled into my drive,
a single star
twinkled directly above my house,
like a blessing, and to the left,
the moon, diehard romantic,
bathed the neighborhood in silver light.

Which of the bedridden among us,
I could not help but wonder,
would not settle
for even one of these?
I, already blessed with good health,
had been given them all
in a single day.

This poem first appeared in Aries: a Journal of Creative Expression.
Used here with the author's permission.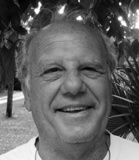 Barry W. North was born and raised in New Orleans. He worked twenty-eight years as a refrigeration mechanic for the St. Charles Parish Public Schools in Louisiana. Since his retirement in 2007, he has written and published three poetry collections and won numerous awards for his work. Barry lives with his wife, Diane, in Hahnville, Louisiana, where they enjoy their retirement and spending time with friends and family. To learn more about Barry, visit www.barrynorth.org.
Patty:
I could see this poem. I smiled at the end, grateful I'd taken the time to read it. Uplifting. Thank you.
Posted 10/02/2015 08:13 AM
rhonasheridan:
A lovely poem. The more I read it the lovelier it gets. A big Thank you
Posted 10/02/2015 01:39 AM
Lori Levy:
Beautiful poem!
Posted 10/01/2015 04:14 PM
Barry:
Thank you for the comments, and thanks, Jayne, for posting this. Happy Fall, everybody!!!
Posted 10/01/2015 03:38 PM
TheSilverOne:
Indeed a blessing.
Posted 10/01/2015 09:39 AM
JanetruthMartin:
Im linking to this poem today!!
Posted 10/01/2015 08:23 AM
Larry Schug:
You get it, Barry. Keep passing on the message in a beautiful way.
Posted 10/01/2015 08:10 AM
cscoville:
What a wonderful reminder of the infinite beauty that surrounds us.
Posted 10/01/2015 07:21 AM
paula:
I love your attitude of gratefulness and your choice of language.
Posted 10/01/2015 06:15 AM