Sometimes, when the day's frenzy
erects false shrines to necessity,
an inner scream crescendos
and all sensibility vanishes

taking with it what's left
of the meditation classes,
time management guides
and lavender lotion.

It happens, this misalignment,
this conformity to chaos,
and like a bullet to the nerves
splinters me.

I take a walk along a road
grizzled with dry stalks
and ripe apples beginning
to drop from untended trees.

Near meadow's edge a deer grazes
on fruit, stops and meets
my stare at that juncture when
the thread pulls taut between bone and dust.
From In from the Dark (Antrim House, 2014).
Used here with the author's permission.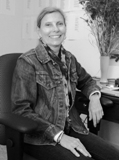 Susan T. Moss lives in Evanston, Illinois, where she is serving her third term as president of the Illinois State Poetry Society. A former high school English teacher, she is the author of  In From the Dark (Antrim House) and Keep Moving 'til the Music Stops (Lily Pool/Swamp Press) and her work has appeared in several journals and anthologies. Friends and family inspire and influence Susan's poetry, as has traveling to all seven continents, hiking Kilimanjaro, skydiving (once!) and attempting to finish her bucket list of adventures. 
transitions:
Yes...
Posted 10/03/2015 01:06 AM
Jo:
Thanks, Susan. I sure needed to hear this. Love the inclusion of the lavender lotion
Posted 10/02/2015 12:32 PM
Lori Levy:
Beautiful images!
Posted 10/02/2015 10:44 AM
Jancan:
Your lovely poem is an impressive blend of literal and figurative language. Janice
Posted 10/02/2015 10:44 AM
rhonasheridan:
The first two lines are so good.
Posted 10/02/2015 09:29 AM
Janet Leahy:
Beautiful poem Susan, I'll hold on to that last line as we deal with the latest shooting, thank you.
Posted 10/02/2015 09:11 AM
Cindy:
Yes, too many "false shrines." A walk in the woods can calm it all down.
Posted 10/02/2015 09:09 AM
Larry Schug:
In light of yet another mass shooting, this poem seems very appropriate. We live in a world of "false shrines". The bullets hit all of us. Just the right poem for the right time.
Posted 10/02/2015 08:33 AM
KevinArnold:
What a great way to start my day, in a real world. Brava!
Posted 10/02/2015 07:59 AM
paradea:
You can 'walk off' anything. Fantastic poem!!
Posted 10/02/2015 07:57 AM
mimi:
wonderful poem, Susan,and very familiar to me. And I love the inclusion of "lavender lotion" in the list of cures that don't work!
Posted 10/02/2015 07:55 AM
rksanders@charter.net:
Lovely poem, Susan. You've captured what happens to me, too, in such busy times--and the balm that soothes and restores equilibrium.
Posted 10/02/2015 06:45 AM