Inside the lodge, our hands wrapped
around hot chocolate cups, we shared a muffin
with a resident ground squirrel running under
tables and chairs and back to us as we waited
for the famous geyser to erupt on schedule.

Overcast and cold, not a day for sightseeing,
but we had front row seats
before a giant picture-window.

We didn't know Elsie, the little lady
with years of laugh lines
etched around her mouth,
until she took the chair beside us.
†
For 90 minutes she spilled out her life in cupfuls.
Chicago-born, life-long teacher, retired
to an island in Puget Sound near her only daughter.†

I saw this thing this morning and it didn't show me much.
Hope it's better this time. She pulled her sweater close.
What did she expect? Predictable doesn't mean perfect.

I smiled, remembering pictures of the scalding
water shooting high, high against cerulean sky,
anticipating the day I would see the real thing.

Dusk fell, the rain slanted against the pane.
Straining my eyes, I spied the first short bursts
forced from the bowels of the earth.

At last Iíd see the real Old Faithful in action.
Before it reached its apex, the steam dissolved,
disappeared, into the misty landscape.

The long awaited marvel lasted only minutes.
Elsie gathered up her coat and hat saying,
Still doesn't show me much.


© by Glenda C. Beall.
Used with the authorís permission.
†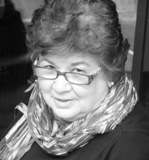 Glenda Beall was raised on a farm in Albany, Georgia, and taught school for many years before relocating to western North Carolina. Widely published in journals, anthologies, newspapers, and magazines, she now teaches writing classes for adults and served for several years as Program Coordinator for the western branch of the North Carolina Writers Network. To learn more about Glenda, visit http://glendacouncilbeall.blogspot.com.

Lori Levy:
Maybe the geyser doesn't show much on that day, but the poem shows us a lot!
Posted 10/03/2015 01:29 PM
rhonasheridan:
Aren't people strange! These odd ones pop up everywhere! One wonders what she would find amazing! It gets you wondering ,
Posted 10/03/2015 07:37 AM
Katrina:
Thank you for introducing me to Wyoming geysers. I learn: 'Old Faithful is sometimes degraded by being made a laundry. Garments placed in the crater during quiescence are ejected thoroughly washed when the eruption takes place. Gen. Sheridan's men, in 1882, found that linen and cotton fabrics were uninjured by the action of the water, but woolen clothes were torn to shreds.' Henry J. Winser (1883). The Yellowstone National Park-A Manual for Tourists. New York: G.P. Putnam Sons. p. 46.
Posted 10/03/2015 02:27 AM