Old enough to still call it jogging,
I jogged past the carousel on Funtown Pier,
one of the few rides left standing
after Hurricane Sandy.
            Old enough to remember reaching
for the brass ring.
            What I did not know then
was what wave and wind
hadn't consumed of my past
would be swallowed by fire
before summer ended.
            No more whirling with the Wurlitzer
like a giant toy top or a young dervish.
            Gone, gold pole-pinned horses
galloping up and down in place.
            Gone, a zodiac of mirrors swirling by.
            No more trails of light.
            The wheel stopped spinning.
            Stars, floor to ceiling, snuffed out.

            But the truth is not as I remember it.
            It turns out, the carousel I jogged by
wasn't the century-old ride I thought it to be
but a second one, built later, south
of the original.
            Turns out, the carousel
I jogged by wasn't my childhood ride at all,
which burned down, or even its replacement,
which was auctioned off, but an "antique
replica" of the replacement.

            Before the aftermath of the fire
of twenty-thirteen, when I learned
my world was a facsimile
of a facsimile as old as me,
            before Sandy,
            before roller coaster after roller coaster,
Wild Mouse to Jet Star,
            before Tilt-a-Whirl and the Swings,
            before Skee Ball ate nickles
and spit out tickets to trade in
for backscratchers and Chinese handcuffs,
            before lead milk bottles stacked
like bowling pins even a hurricane
couldn't knock over, according to Woody Allen,
            before Lucky Leo's arcade crane
rigged to let a Timex watch
slip through its claws,
or the Coin Castle's wheel of chance,
            in the beginning,
the ocean danced with the moon
and we swam in waves, broken
and made whole again.
Then came a carousel of lights
with hand-painted animals
and a Wurlitzer organ
reeling alongside the water.
            In the beginning
was the spinning, simply
to spin. To be alive and dizzy.
To watch the world whirl by.
And whirl with it. To be made tipsy.
And then, to reach. The reaching.
A pudgy hand. A brass ring. And maybe,
a lucky grab, a free ride.

© by John Smith.
Used with the author's permission.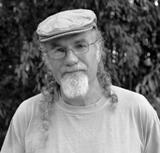 John Smith is a retired high school English teacher whose work has appeared in NJ Audubon since the 1980s and in numerous other literary magazines and anthologies. His poem, "Lived Like a Saint," was set to music by Philadelphia composer Tina Davidson, as part of a choral work, "Listening to the Earth," commissioned by the New Jersey Parks Commission. Another poem, "Birding," was commissioned by New Jersey Audubon for their centennial. In addition to poetry, John enjoys writing, cooking, gardening, and keeping an eye on the birds.
Lori Levy:
I feel like I'm on the carousel. So much motion in this poem. Great poem!
Posted 10/04/2015 12:37 PM
KevinArnold:
Interesting lineage, compromising with fiction, and such attention to detail! A moving poem.
Posted 10/04/2015 10:04 AM
wordlover:
Beautiful mix of fantasy and reality
Posted 10/04/2015 10:02 AM
loisflmom:
John, you have beautifully captured my childhood memories at the Jersey shore, and again brought tears to my recent memory of seeing them violently washed away.
Posted 10/04/2015 09:15 AM
paradea:
Fantastic!!
Posted 10/04/2015 09:14 AM