"Now that you're retired
I'd counsel you to change the overall mix
of stocks and bonds
in your portfolio from 70/30
to a more conservative 60/40
in order to help ameliorate
the vicissitudes of an ever more unpredictable
stock market" Danielle
my pretty young
financial advisor advises me adding
"You're in that season
of your life after all."


© by Michael Estabrook.
Used with the author's permission.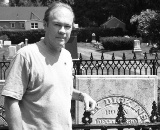 Michael Estabrook is a recently retired baby boomer child-of-the-sixties poet freed finally after working 40 years for "The Man" and sometimes "The Woman." No more useless meetings under florescent lights in stuffy windowless rooms. Now he's able to devote serious time to making better poems when he's not, of course, trying to satisfy his wife's legendary Honey-Do List.
erinsnana:
I love it! I am in that season too...
Posted 10/05/2015 12:20 PM
Shoshauna Shy:
That "after all" at the very end hammers this poem into place. M Estabrook is one of my favorite poets, and I was pleased to see him here!
Posted 10/05/2015 11:42 AM
Lori Levy:
I agree with "wordlover." The bio is as good as the poem.
Posted 10/05/2015 11:23 AM
ElizabethP:
I love it! Yep, we're "in that season" for sure. But, little do they know how much mischief we still have inside... :-)
Posted 10/05/2015 10:19 AM
wordlover:
So clever--the poem and the bio.
Posted 10/05/2015 06:26 AM