a buck stops to rest, tail swatting flies, nose glossy as though
recently stream-dipped, only there are no streams,
this our third year of drought,
a nearby creek skeletal with rocks.

I imagine the buck sucking wet from leaves that are still
green in early October, gnashing out whatever liquid remains.

Whatever moves him to move along this trail, to finally rest
in hollowed out bed of dry grasses, to at last close
his eyes over this season of absolute dryness,

must be whatever entices us to sleep side-by-side
in the blue-black dark where the hours drip their minutes;
where by morning we age into something new.
© by Dianna MacKinnon Henning.
Used with the author's permission.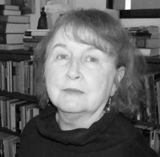 Photo Credit: Jody Wright
Dianna MacKinnon Henning lives on six acres in the country with her husband and malamute, Sakari. She says, ?We are in awe of the mountain behind us, Thompson Peak, and the abundant pines and oaks that surround us. We are rich in wildlife, too. The mountain sings us to sleep and the birds awaken us with their melodies. Here, in this place I call home, I write what touches my heart." Dianna, the author of three books, also runs a writers' workshop, The Thompson Peak Writers, which has thrived for the past twenty years.
Jancan:
I enjoyed this beautiful poem--its tribute to the resourcefulness of God's creatures, the lovely picture painted, and the effective use of figurative language. Janice Canerdy
Posted 10/07/2015 01:47 PM
rhonasheridan:
I loved this poem. Thank you
Posted 10/07/2015 01:21 AM
Ginny C.:
lovely poem
Posted 10/06/2015 01:28 PM
Lori Levy:
Like the way it leads into the last stanza. Beautiful poem.
Posted 10/06/2015 11:24 AM
ElizabethP:
This is wonderful! I can almost see it, smell it, hear the buck breathing. Great job, Dianna.
Posted 10/06/2015 09:42 AM
Cindy:
this is lovely
Posted 10/06/2015 08:28 AM
paradea:
A beautiful poem.
Posted 10/06/2015 07:42 AM