We are shining stars,
each a light unto ourselves,
yet bound together
by an invisible thread.
We revolve around each other,
form shifting patterns of brilliance,
power, grace and love
in our luminous dance.
We challenge the night
that surrounds us all,
but cannot dampen
the light we radiate
as we work, laugh and dance
together.
© by Larry Schug.
Used with the author's permission.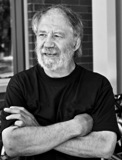 Larry Schug, after a work life of various kinds of manual labor and learning, is retired—a career he says he was born for. Author of eight collections of poetry (the most recent is A Blanket of Raven Feathers, from North Star Press), Larry is a volunteer writing tutor at the Writing Center at the College of St. Benedict and a volunteer naturalist at Outdoor U. at St. John's University. He lives with his wife, dog, and three cats near a large tamarack bog in St. Wendel Township, Minnesota.
Jo:
The luminous dance. Lovely, Larry.
Posted 10/26/2015 10:18 PM
Jancan:
I enjoyed this lovely, concise poem, which speaks of how each of us "shines"--how each person is special. Janice Canerdy
Posted 10/24/2015 08:00 PM
jtmilford:
A beautiful poem about our luminous life where the thread of every word counts.
Posted 10/24/2015 03:24 PM
plgoodman:
Right on! General but specific. This speaks loudly in few words.
Posted 10/24/2015 01:09 PM
Glen Sorestad:
I love the "luminous dance" image, Larry.
Posted 10/24/2015 09:28 AM
rhonasheridan:
A lovely verse. My Constellation liked it!
Posted 10/24/2015 05:15 AM