In a traveler's hurry we dash to the Continental Breakfast Cafe.
I am unsure to which continent the sign refers.
The roar of the interstate provides basso to the piped-in Musak.
Vast plastic pitchers pour
Cheerios and Frosted Flakes into cardboard bowls.
Dried oatmeal from one spigot meets hot water from another.
Blindingly yellow eggs neatly aligned in a chafing dish,
are of suspicious origin, unlikely chicken.
Bacon, curled and congealed warms in the dish next to the eggs suggesting
it was pre-cooked in a rural factory long after the death of the donor pig.
Doughy pastry sits on Windexed glass shelves and speaks to the vagaries of old age
as stacks of hermetically sealed butter and jam offer comfort
and induce guilt at criticizing the corporate largess offered,
and finally genuine bananas
grown somewhere exotic, shipped green across rolling seas,
proof that somewhere an industrial nutritionist
understood the importance
of providing one thing capable of spoiling
to keep things real.
© by Anita S. Pulier.
Used with the author's permission.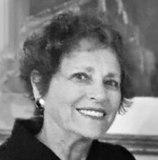 Anita S. Pulier, after many years of practicing law in New York and New Jersey, served as a U. S. representative for the Women's International League for Peace and Freedom at the United Nations. Currently, she is a Trustee of the Jane Adams Peace Association. Anita's chapbooks, Perfect Diet and The Lovely Mundane, were published by Finishing Line Press in 2011 and 2013, respectively, and her poems have appeared in numerous online and print journals. Anita and her husband divide their time between New York and Los Angeles. Learn more about her at http://psymeet.com/anitaspulier/.
ElizabethP:
I think we've all visited that place before... :-)
Posted 10/26/2015 11:08 AM
Jean Colonomos-1:
I am now going to appreciate my homemade oatmeal!
Posted 10/26/2015 10:14 AM
Sherry:
This is hilarious, and sad at the same time. And oh so true!
Posted 10/26/2015 10:04 AM
Cindy:
Thank God for bananas!
Posted 10/26/2015 09:12 AM
Larry Schug:
Cynicism is good for so many reasons. So is this poem.
Posted 10/26/2015 07:37 AM
Walcottjm:
Killed my appetite for breakfast! Such pointed descriptions. Thank you.
Posted 10/26/2015 06:52 AM