Nicholas, Saint of Children,
Loves to spend his wealth
On pretty toys for girls and boys,
Leaving them by stealth.
The wind in the chimney
Hears children call:
"Bring me this, Saint Nicholas!
Bring me that, Saint Nicholas!
A silky scarf,
A bag of sweets,
A big gold ball!"
Nicholas, Saint of Sailors,
Children of the sea,
When their sails are torn by gales
Close at hand is he.
The wind in the rigging
Hears the sailors cry:
"Save us here, old Nicholas!
Save us there, good Nicholas!
Saint of Sailors,
Bring us safe
Home, high and dry!"

From Ten Saints (Oxford University Press, 1936)
This poem is in the public domain.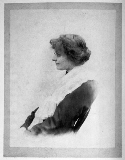 Eleanor Farjeon (1881 - 1965) was an award-winning English author of primarily children's literature. Born into a literary family (her parents and siblings were all writers, except for one brother who was a composer), "Nellie," as she was called, started writing when she was a child. She was friends with many leading authors of her time, including D.H. Lawrence and Robert Frost. Though Eleanor produced a tremendous amount of work--more than eighty books of children's stories and poems, adult novels, and other work, plus numerous school plays--her best known creations are the poem, "Morning Has Broken," made popular in the song by Cat Stevens, and the Christmas carol, "People Look East!"
KevinArnold:
Ah, so that's where Santa came from, a kindhearted bishop. And a saint of archers, too, people who know their targets. and sailors, whose sails are torn by gales. Perfect poem for St. Nicholas's Day
Posted 12/06/2014 09:07 AM
cork:
There was a lump of coal in my stocking this morning!
Posted 12/06/2014 08:51 AM