The summer before college
I worked United Ring and Seal
nine hours a day, six days a week
on my feet fitting airplane
piston ring after airplane
piston ring into a rotor,
then lowering the lever
that lowered the blade that shaved
exactly however many millimeters
the military needed shaved
from the inside edge
to ensure smooth flying.
I sang every song I knew
and survived break to break
half grinding, half dancing,
caught up in the dull service
and rote worship
of some foreign purpose.
Punched in and out of time,
I skimmed by on cigarettes
outside on a bench leaning back
against the building,
the brick wall's thick hum
massaging my lucky shoulders,
sun resting its warm hand on my face.
And I thought about my friends
with lower lottery numbers than mine,
rifles raised over their wide-eyed heads,
mouths closed tight, glancing
side to side, advancing,
up to their armpits in Vietnam,
and I thought about the Vietnamese
leaning back like me
against machine shops
they didn't own either,
savoring their own small breaks,
while not only the walls behind them
but the clouds above were humming,
humming and dark with planes.

This poem first appeared in the Paterson Literary Review.
Used with the author's permission.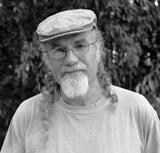 John Smith is a retired high school English teacher whose work has appeared in NJ Audubon since the 1980s and in numerous other literary magazines and anthologies. His poem, "Lived Like a Saint," was set to music by Philadelphia composer Tina Davidson, as part of a choral work, "Listening to the Earth," commissioned by the New Jersey Parks Commission. Another poem, "Birding," was commissioned by New Jersey Audubon for their centennial. In addition to poetry, John enjoys writing, cooking, gardening, and keeping an eye on the birds.
Dorcas:
Thank you. My father repaired battleships in WW II. He had Civilian Status and would have been a 2nd Lieut. in the SeaBees immediately if they had needed him. I was very young but, always spoke about pistons and how there was such a small fraction needed between the piston and the cylinder.
Posted 12/09/2014 04:40 PM
paula:
Very strong.
Posted 12/08/2014 04:57 AM
Jo:
All I can say is Thank you.
Posted 12/07/2014 12:28 PM
pwax:
This poem does what poetry is supposed to do! Thank you, John.
Posted 12/07/2014 12:02 PM
Larry Schug:
I don't really like to think about those days and their consequences for so many of us so much, but we all need to remember them. It's part of a poet's job description to be the "rememberer' of the tribe and you do your job very well, John. Thanks.
Posted 12/07/2014 10:29 AM
paradea:
Wonderful poem!!
Posted 12/07/2014 10:12 AM
plgoodman:
Bingo, John. So low key, tight and reflective until that dynamite last line. Thank you! By the way, I'm a bird nut, too !
Posted 12/07/2014 09:58 AM
phebe.davidson@gmail.com:
the most effective poem I've seen in a long time---
Posted 12/07/2014 06:41 AM
bbatcher:
I'm doing research for a book about my great grandfather and his brother who fought on opposite sides in the American Civil War. I think of their parents, just hoping both boys would survive the conflict, regardless of ideologies. How sad, indeed, that war denies our commonality.
Posted 12/07/2014 05:46 AM
rhonasheridan:
The words - for some foreign purpose - Will they ever go away? They seem to overshadow everything.
Posted 12/07/2014 02:34 AM
Ross Kightly:
As one who in another country was spared by my own sole lottery win so long ago the need to refuse to go 'All the way with LBJ' this poem also brings tears to my eyes for all my University friends who weren't so lucky! And for all those not-to-us enemies in the news! Thank you.
Posted 12/07/2014 01:54 AM
fuddygail:
took me right there with the sun on my face..thanks for taking me there....
Posted 12/07/2014 12:21 AM
Ginny C.:
a fine poem
Posted 12/06/2014 11:10 PM