Mid-week dinner for eight,
husband's work, leave everywhere
early but still run late. Juggle dishwasher,
pots, knives, vegetables, vacuum, a four-layer cake
that wants to fall apart. Before my daughter caught
the bus she said, how nice that I could fit whatever
I like into my day, in contrast to her,
a homework slave. For a minute

I consider leaving mid-mess,
water boiling, onion peel scattered, tomato
dripping, table covered and my bitter
eggplant just
half-baked. Instead I finish my assignment, leave two
wishful sinks soaking for someone else later.


From Obstructed View (Fireweed Press, 2009)
Used with the author's permission.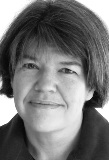 Wendy Vardaman is the author of Obstructed View (Fireweed Press), co-editor of four anthologies, and founding co-editor of Cowfeather Press. She is one of Madison, Wisconsin's two Poets Laureate (2012-2015) and teaches online through the Loft Literary Center and the Division of Continuing Studies UW-Madison. Wendy has three adult children and has never owned a car. See what she's up to at www.wendyvardaman.com, Twitter: @wendylvardaman, and Tumblr blog: live art(s) art live(s).
vscholtz:
Although I am not in your busy time of life, I still have days that feel the same. Glad I had the time to read your clever picture of a "Mom".
Posted 12/08/2014 09:42 AM
tiddles:
Love the bitter eggplant element! I think those of us that have been there (are there) are wishful sinks. Thanks, Wendy.
Posted 12/08/2014 07:38 AM
rhonasheridan:
I shall pin this on the kitchen wall!! In large letters....
Posted 12/08/2014 12:57 AM