My mother says I'm lucky.
When she was sixty
her crows' feet had spread
until it looked like crows
had walked all over her face.

"Your skin comes
from your father's side of the family,"
she says, "the Italian side.
They don't get wrinkles.
It's all that olive oil.

"Look at your Aunt Rosa.
Her skin was so smooth
the mortician didn't even need to use makeup,
but he did, of course,
they all do, heaven knows why.
Who wants to look like a madam
when they're dead?
Don't let them do it to me."

First published in Ilya's Honey Spring 2004 and Nerve Cowboy Spring 2006.
Used with the author's permission.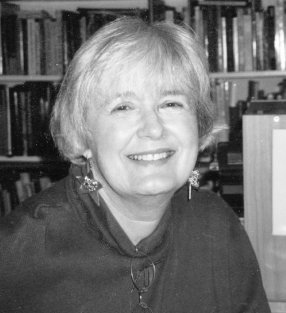 Ruth Bavetta's poems have been published in Rattle, Nimrod, Tar River Review, North American Review, Spillway, Hanging Loose, Rhino, Poetry East, and Poetry New Zealand, among others, and is included in the anthologies, Wait a Minute; I Have to Take off My Bra, Feast, Pirene's Fountain Beverage Anthology, Forgetting Home and Twelve Los Angeles Poets.  She has published two books, Fugitive Pigments and Embers on the Stairs. A third book, No Longer at this Address, will appear soon. She loves the light on November afternoons, the smell of the ocean, a warm back to curl against in bed. She hates pretense, fundamentalism and sauerkraut. Learn more about her at www.ruthbavetta.com.
robert:
excellent!
Posted 03/25/2015 10:36 AM
Cindy:
the most original poem I ever read - loved it
Posted 12/09/2014 09:17 AM
erinsnana:
I love this one too! I second everything that Sharon said!!
Posted 12/09/2014 09:16 AM
mimi:
wonderful poem, sweet and funny too! Sharon Auberle
Posted 12/09/2014 08:33 AM
paradea:
Great!! Love this!
Posted 12/09/2014 07:35 AM
Gilbert Allen:
The mother's voice seems exactly right, and I share Jayne's response to the title.
Posted 12/09/2014 06:56 AM
lincolnhartford:
Lovely laughs at breakfast time. Wonderful connections.
Posted 12/09/2014 06:48 AM
rhonasheridan:
Hilarious!
Posted 12/09/2014 01:24 AM
KevinArnold:
Ah, a great snap-ending that leaves the reader, or at least this reader, wanting more.
Posted 12/08/2014 11:19 PM
jonidee61:
Loved this!
Posted 12/08/2014 11:15 PM