The city was brick and stone in the time
before glass and steel. In those days
the city was streets of women.
They climbed down from buses
in seal skin, navy straw hats stuck with pearl drop pins,
their double-knotted Red Cross shoes,
clutching black cowhide purses, leading the children.

They lunched in tea rooms
on chicken-a-la-king and quartered sandwiches
but never wine--and never with men.
Rising in the smoky air,
their voices blended--silver striking off silver.
They haunted book rental booths,
combed aisles of threads and zippers,

climbed to the theater balconies, the palaces
where Astaire dipped and turned them
into more than they were.
In the late afternoons they crowded the winter dusk
waiting at the Isle-of-Safety, for the bus
with the right name to carry them home
to the simmer of soup on the stove,
the fire's sweet red milk.

Evenings, far over the tiny houses
the wind swept the black pines like a broom,
stars swirled in their boiling cauldron of indigo
and the children floated to sleep to the women's song
zipping the night together, to the story
of the snow goose who went farther and farther
and never returned.
This poem first appeared in Comstock Review.
Used with the author's permission.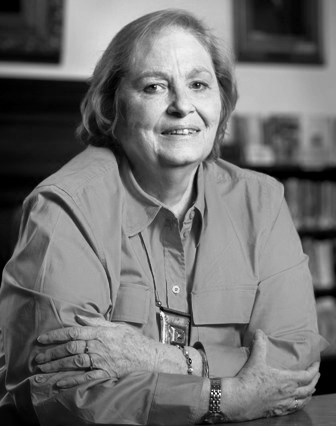 Patricia Fargnoli served as New Hampshire's Poet Laureate from 2006 through the spring of 2009. A retired social worker, she  is the author of seven collections, the most recent being Winter (Hobblebush Books, 2013). According to Patricia, "Poetry is the center of my life." She's been writing it since the age of six, but began seriously writing in her mid-thirties and published her first book at 62. Patricia is the mother of three and grandmother of four; she lives in Walpole, New Hampshire. To learn more about her, visit www.patriciafargnoli.com.
gailcomorat:
So good to read this poem again. Love "when the city was streets of women."
Posted 12/12/2014 05:43 AM
chris schulz:
An evening poem, and it's a dark, wet morning on the central coast of California...love "the wind swept the black pines like a broom".
Posted 12/11/2014 09:11 AM
Cindy:
from my own childhood, when it was safe for even girl children to ride downtown alone on the bus
Posted 12/10/2014 09:10 AM
mimi:
yes, I remember those women too! lovely poem...
Posted 12/10/2014 07:50 AM
paula:
Just wonderful. From a time long ago and not so long ago.
Posted 12/10/2014 06:29 AM
rnordstrom:
Lovely poem.
Posted 12/10/2014 05:29 AM
Barry:
Beautiful!!
Posted 12/10/2014 04:14 AM
Katrina:
If Poetry is the centre of Patricia's Life, Life is the centre of her Poetry.
Posted 12/10/2014 03:08 AM
barbsteff:
Wonderful! I'm old enough to remember women like this, and times like these. Thanks.
Posted 12/10/2014 12:28 AM
Jo:
One of my favorite poems, Pat. discovering you here past my bedtime.
Posted 12/09/2014 11:09 PM