but for the seasons of our lives—though real pears
lie nestled in newspaper upon the floor
and I look in on them each day. Turn them
so they ripen all around. Count them and design
their use. Today I dream of mincemeat with apples,
cranberries, currants, rind of lemon and orange,
the perfect spices. Would I could be so kind
when I look upon my years. Turn them so
the ripe parts show, imagine yet what could
become of me.
© by Judith Heron.
Used with the author's permission.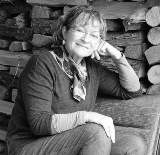 Judith Heron lives in Victoria on Vancouver Island. She has been published in a number of chapbooks edited by Patrick Lane, and in three anthologies: A Murder of Crones (Ptarmigan Press 2007), The Wild Weathers: a gathering of love poems (Leaf Press 2012), and Poems from Planet Earth (Leaf Press 2013). Though she has always lived on the west coast of Canada, Judith cherishes the homestead traditions of her prairie heritage. She is currently in the final edit of THE JAM MAKER, her first book-length manuscript.
ElizabethP:
Love, love, love this! :-)
Posted 11/08/2015 04:22 PM
Larry Schug:
Wisdom found in fine poetry.
Posted 11/07/2015 04:44 PM
erinsnana:
this is great!
Posted 11/07/2015 02:15 PM
Lori Levy:
Beautiful thought. I can smell and taste this poem.
Posted 11/07/2015 12:13 PM
islandspirit:
Lovely!
Posted 11/07/2015 09:14 AM
paradea:
Some of my 'ripe' parts are hanging on the ground! Nice poem.
Posted 11/07/2015 08:47 AM
dmahoney:
Beautiful! Turning the years so the ripe parts show. We all need this.
Posted 11/07/2015 06:50 AM
Katrina:
Pleasant. I like the eye-rhyme of pears and years.
Posted 11/07/2015 04:34 AM