Off the Interstate
in the Ramada, but still
traveling in my head,
I'm alone in a too big room,
rattling around beds, desks, chairs,
an empty tv.  I've returned
to the city I came first as a bride,
my young husband, younger
then than my sons are now.
His first job after college,
into the real world. We were
wed with all that lace,
rice, veiled view
of everything wonderful,
so alive nothing could touch us.

We bought a polished house.
I planted roses and raspberries,
saved S&H behind green shutters,
green trim, tall greened pines.  Even
the kitchen was green, walls, counters,
and bathroom tile, green.  I painted
the kitchen pink.  I could make one dish
for every day of the week.  Monday
was meatloaf.  Sent that husband off
every day in shirt and tie, blue and white
seersucker suit.  All the women stayed
home, hung sheets on the line,
made congealed salads
and layer cakes.

Now from a far room
I hear someone playing flute.
In a distant time, if I listen
hard enough, I can hear
the sound of his car
in the drive, his footsteps
on the porch.
© by Ruth Moose.
Used with the author's permission.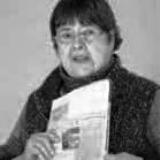 Ruth Moose was on the Creative Writing faculty at the University of North Carolina-Chapel Hill for 15 years. Author of three collections of short stories and six collections of poetry, her work has appeared in many U.S. publications and in Holland, South Africa, England and Denmark. Ruth was awarded a MacDowell Fellowship and, in 2009, received the prestigious Chapman Fellowship for Teaching. Her debut novel, Doing it at the Dixie Dew, was awarded a $10,000 Malice Domestic Prize. Ruth's next novel, Wedding Bell Blues, is scheduled for publication in August 2016 by St. Martin's Press. Ruth lives in Pittsboro, North Carolina; learn more about her at www.ruthmoose.com.
Eiken:
Wonderful Ruth, just wonderful. It took me to your hotel but it took me to hotels where I have been too....memories still fresh. Inspired.
Posted 11/11/2015 04:25 AM
Lori Levy:
Love the details in this poem. And the flute in the last stanza.
Posted 11/08/2015 11:42 AM
transitions:
Me too...oh, me too...Thanks for the memory ~
Posted 11/08/2015 10:05 AM
Cindy:
"veiled view" - how true that is as a young bride with no experience yet
Posted 11/08/2015 08:10 AM
KevinArnold:
Fun.
Posted 11/08/2015 06:28 AM
fuddygail:
Wonderful rhythm..it fairly sings..Brava!
Posted 11/08/2015 02:14 AM