Steam rose from a silver crescent hood
sterilizing white plates and swallowing cutlery.
The goose-necked fountain honked
and caged canaries sang. Hair-netted,
I crated and emptied, crated and emptied
then nickle-and-dimed BLTs:
one strip broken into four bits,
a tomato slither, a pinch of mayo,
lettuce laid on rye toast dipped in
grease served with coffee, cherry Coke,
or an egg cream to my boss, Mr. D'Amboise,
whom we dubbed Fang, leering from the edge
of the counter, and to neighborhood
shoppers who gossiped and left small tips.

I loved the small talk, the girls' scarfed hair
set in bobby-pin grids of perfect X's,
the teenage boys swiping
dog chains, the ache in my lower back,
the mustard-clogged funnels, loved
even my father who tipped
his tweed cap after eats,Twas grand, he'd say
then stiffed me as he spun from his red leather stool. 
© by Liz Dolan.
Used with the author's permission.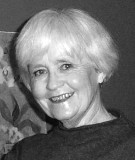 Liz Dolan, a retired English teacher who lives in Rehoboth, Delaware, has won numerous fellowships and awards for her work. As director of an alternative school in the Bronx, where she was born and raised, Liz helped increase attendance from 65 percent to 90 percent by initiating a daily program of writing across the curriculum. Currently, she serves on the poetry board of Philadelphia Stories. Mother of two and grandmother of ten who "pepper her life" and live just a block away, Liz devotes several days a week to babysitting in between composing poetry, short stories, and memoirs.
Jo:
Oh Liz, You bring back so many memories-Mom used to take us there for sodas. Our favorite treat. And of course where we bought Christmas presents. Love your details.
Posted 11/09/2015 12:16 PM
transitions:
I looked forward all week to my tuna salad on toast and chocolate malt at the WW counter, rock n' roll playing. I walked 8 blocks, clutching my 50 cents, x-pinned hair under my skarf. Thanks for a great memory, brought back to life from my side of the counter :) Judy
Posted 11/09/2015 09:54 AM
plgoodman:
Love it, Liz. So typical you - the marvelous detail, the connections to people we all knew and probably still do, just without the scarfed hair!
Posted 11/09/2015 08:42 AM
Donal Mahoney:
Fine poem that brings back many memories of the red stool and the waitresses who worked behind the counter. In Chicago, Woolworth's had at least two counters going into the Seventies, maybe later. But the waitresses took no bunk from the office workers who traipsed over at lunch for a bit to eat. They worked hard for the money. In terms of people interacting, perhaps a better era now in sundown.
Posted 11/09/2015 04:54 AM