Yesterday at Yesterday's Restorers, came a moment,
Alex, Rodger, and Dave, each with hands in metal entrails,
of gasoline fumes, of man, machine,
and an excess of fellow feeling.

The youthful octane in the tank of first loves:
Nash Metropolitan, Chevy Corvair, Ford Pinto,
each idling, conquests of easy repair; no intimacy
of backseat equal to being alone with nostalgia.

In the beautiful ruin of lives, a device recovering
from rust to percolation, paint becomes flesh;
iron becomes bone; benzene, blood? each a sign,
an emblem, hood ornament against time.


© by Ron Houchin.
Used with the author's permission.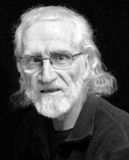 Ron Houchin lives on the banks of the Ohio River across from his hometown of Huntington, West Virginia. He taught in public school for thirty years in the Appalachian region of southernmost Ohio. Ron is the author of seven poetry books and his award-winning work has appeared in The Southwest Review, The Southern Poetry Review, Poetry Northwest, The New Orleans Review, and many others. HIs latest book, The Man Who Saws Us in Half, won the Weatherford Award for poetry in 2013. Apart from writing and traveling, working out and watching horror films take up much of his time.
KevinArnold:
Yes, we seem to be finding nuggets here. I liked "no intimacy / of backseat equal to being alone with nostalgia." perhaps because it has backseat, intimacy, and nostalgia so close together."
Posted 11/12/2015 11:26 AM
vscholtz:
Such a lot of beauty and skill in this poem. I especially like - "In the beautiful ruin of lives" Thanks for a winsome walk back in time.
Posted 11/12/2015 08:57 AM
Ross Kightly:
The word 'restore' goes on echoing down the years back to, say, a Ford Custom 'One Spinner' of my own childhood in Australia! Thanks Jayne and Ron - lovely!
Posted 11/12/2015 04:29 AM