how rough the bark
on the tallest pine;
how huge its weathered girth. Above
the noon sun has lost track of time
as I play in my friend's great shade,
stop to absorb the mountains and proclaim

to the undulating valleys
and busy brooks below
that behind me stands my greatest love
on its massive foundation of mountain stones

and because the future
has not claimed me yet,
I cannot know at three

that memory (and longing)
will forever bind me to this place —
my heart's first love and home
© by Jana Kalina.
Used here with the author's permission.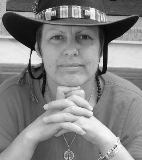 Jana Kalina lives in Victoria, on Vancouver Island. This Bohemian-born poet — with romantic heart and idealistic world view — enjoys island life with her Caribbean-Quebecer husband, especially skinny dipping in summer and harvesting wild mushrooms in the fall.
Mary Lou Taylor:
This poem touched my heart. And, of course, reminded me of my first home. Thank you, Jana.
Posted 11/14/2015 06:34 PM
rhonasheridan:
A wonderful poem. The content has meant a lot to me. Beautiful
Posted 11/14/2015 05:45 AM
ElizabethP:
Beautiful.
Posted 11/13/2015 11:27 AM
Lori Levy:
Beautiful.
Posted 11/13/2015 11:24 AM
transitions:
Agreed, heartfelt and lovely.
Posted 11/13/2015 10:40 AM
Jo:
Memory will forever bind me to this place... heartfelt poem, Jana. Thank you.
Posted 11/13/2015 09:23 AM
Janet Leahy:
Memory's map of our first home stays with us, a lovely poem. Thanks Jana.
Posted 11/13/2015 09:01 AM
Sherry:
I especially like "...the future/ has not claimed me yet"
Posted 11/13/2015 08:45 AM
paula:
I love the subject of this poem
Posted 11/13/2015 05:52 AM