The table was old
when we bought it
in the seventies.
Queen Anne, mahogany,
paw feet and elegantly carved knees.
It shares the dining room
only with its matching buffet
and chairs.
Seats eight without leaves.
When everyone comes home
we extend it into the living room,
moving the coffee table
and wing chair,
so we can all sit together.
Year after year, it expands,
like love,
to all who come.
†
This poem first appeared in the Wilda Morris Poetry Challenge.
Used here with the authorís permission.
†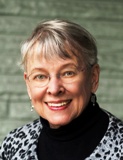 Peggy Trojan lives happily in the north woods of Wisconsin next to a trout stream. She gardens, entertains, and quilts when she isn't writing. Widely published in journals and anthologies, and a member of the Wisconsin Fellowship of Poets, Peggy is the author of three books of poetry.
Katrina:
I like this curious mixture of leggy personification and objective-'it'-y.
Posted 11/16/2015 03:45 AM
Lori Levy:
Love the ending!
Posted 11/14/2015 05:04 PM
ElizabethP:
This poem is wonderful. Really touched my heart.
Posted 11/14/2015 03:59 PM
vscholtz:
Thanks for this. I love to see "comes home" just below "leaves".
Posted 11/14/2015 12:40 PM
njc:
Great poem, Peggy! And now I know why you built your house the way you did.
Posted 11/14/2015 12:07 PM
Sherry:
What a nice poem, so simple and so beautiful, and just right for Thanksgiving.
Posted 11/14/2015 09:42 AM
KevinArnold:
The beauty of honing in on one image--the constraint of the dining room, the other furniture giving way. So powerful.
Posted 11/14/2015 08:55 AM
Cindy:
a comfortable poem for Thanksgiving time
Posted 11/14/2015 08:15 AM
Janet Leahy:
Like the table that expands with love this poem is a treasure.
Posted 11/14/2015 08:13 AM
mimi:
lovely poem and truth, Peggy... Sharon Auberle
Posted 11/14/2015 07:44 AM
pwax:
Wonderful metaphor.
Posted 11/14/2015 07:00 AM
rhonasheridan:
It is such a joy when one of your children takes a treasured piece. But their wee abodes now-a-days just cannot accommodate as much now-a-days. It seems silly to love a piece of furniture....but!
Posted 11/14/2015 06:00 AM
Jean :D:
Love this image, just what I do, move the wing chair & coffee table so we have enough room for the dining rm table! The table expands like the love gathered around it! Wonderful!!
Posted 11/14/2015 05:31 AM