After winds and rain
that toppled trees, cobwebs still
cling to the woodpile.
© by Liz Rhodebeck.
Used with the author's permission.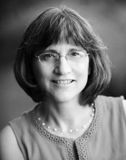 Liz Rhodebeck has loved writing since she was a child and gave poems and stories as gifts. Author of several chapbooks, she was awarded the Wisconsin Fellowship of Poets' 2014 Muse Prize. When she?s not writing, Liz likes to dabble in art, and she?s quite fond of bagpipe music. A ministry leader at her church where she lives in Menomonee Falls, Wisconsin, Liz is also a founding member of the faith-based group Grace River Poets. Learn more about her at http://www.waterwriter.com/.
Kathleen Carlson:
So big, so brief, it takes your breath away. Thanks, Liz
Posted 11/16/2015 08:23 PM
Janet Leahy:
Lovely poem for the season. Thanks Liz.
Posted 11/16/2015 05:25 PM
Liz:
Wow! Thank you all for your kind comments.
Posted 11/16/2015 05:15 PM
transitions:
Fragile, beautiful...
Posted 11/16/2015 04:29 PM
Mary Lou Taylor:
I've saved your poem as an example to use for a workshop teaching how to construct a broadside. So fitting.
Posted 11/16/2015 11:58 AM
Barry:
Very nicely done. I wish I had written that.
Posted 11/16/2015 11:53 AM
Jo:
Beautiful Liz.
Posted 11/16/2015 11:04 AM
Lori Levy:
Beauty and depth in a few short lines!
Posted 11/16/2015 09:53 AM
Marilyn L Taylor:
Beautiful, Liz. I'll remember this.
Posted 11/16/2015 08:44 AM
jeeger:
So simple. So true.
Posted 11/16/2015 07:26 AM
paula:
Wonderful. Liz
Posted 11/16/2015 07:04 AM
Gary Busha:
Perceptive.
Posted 11/16/2015 05:58 AM