The sports car slingshots past me,
the morning sun sparkling
off its shining silver skin,
its license plate singing
"Upbeat"
as it effortlessly slides
through the Monday morning 
commute, increasing 
the distance
between us.
It's been years since
I've had a car 
that stated anything,
or even asked for attention,
my weather-worn Hyundai
after a decade 
still as efficient and anonymous
as the workers who assembled it.
Road weary,
taken for granted,
too humbled
to demand tags
that grumble 
a bashful
"Beat Up,"
to the heedless world 
brashly passing by.
This poem first appeared in U.S. 1 Newspaper.
Used here with the author's permission.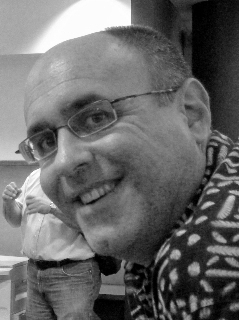 Tony Gruenewald lives in New Jersey, where he works as production director for Learning Ally, the nation's largest library for accessible textbooks and educational material for people who are blind or visually impaired or have a print disability such as dyslexia. His collection, The Secret History of New Jersey, was published by Northwind in 2009. Tony's poems have been seen in Edison Literary Review, Mas Tequila Review, U.S. 1 Worksheets, English Journal, The New York Times, and Slow Trains. Learn more about him at tonygruenewald.com.
loisflmom:
I'm just grateful that my faithful Honda is red!
Posted 12/01/2015 07:25 PM
paradea:
I drive a 'hard to find' car as in HTF when I step out of Walmart and the parking lot is full of 'roach-brown' KIA Spectras!!! Love the poem!!
Posted 12/01/2015 05:12 PM
Jancan:
I really like this amusing--but thought-provoking--poem. Janice
Posted 12/01/2015 10:46 AM
KevinArnold:
Lots of fun stuff here. Upbeat and beat up; bashful and brashly.
Posted 12/01/2015 09:10 AM
diana.anhalt:
Love the humor and the 'up-frontness'of this poem. Diana Anhalt
Posted 12/01/2015 09:07 AM
vscholtz:
"as efficient and anonymous as the workers who assembled it." Wonderful - and chilling.
Posted 12/01/2015 08:29 AM
paula:
Fun! My car is approaching 200,000 miles.
Posted 12/01/2015 05:59 AM