for Luanne Ferenci
Some students in the Adaptive Physical Education class
can barely stand up so a volley ball on the floor
must seem to them a mountain to climb, one more
difference from the rest of the kids they see
in school. And I think of their fathers
who love them with all their hearts and each day
of each year must watch their sons and daughters
struggle through motions other kids find easy
as breathing. I consider my own son and the love
and gratitude I feel for his pediatrician, for
his pre-school teacher, for all the adults
who help him and let him know he is someone
to be cherished. I stand in this hall looking in
at the able P.E. teacher and I see her patience
and devotion washing over these kids
like May rain and I hear their happiness
in playing games they can play. I feel in my heart
that their fathers, my brothers in parenthood,
would embrace her with gratefulness born
from a life of limits they have had to see
their kids endure. We are all God's children
so these students are my family, too and
I have such joy watching this woman work
her miracles in the noise of the gym as I stand
outside looking in, smiling through my tears.
From Dream Teaching (Grayson Books, 2005).
Used here with the author's permission.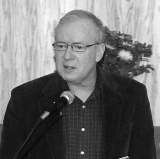 Edwin Romond is a poet, playwright, composer, and educator. Now retired, he taught English for more than 30 years in Wisconsin and New Jersey. Edwin's award-winning work has appeared in numerous literary journals, college text books and anthologies, and has been featured on National Public Radio. He maintains an active schedule of readings and presentations; check www.edwinromond.com to see if he's appearing anywhere in your area. A native of Woodbridge, New Jersey, Edwin now lives in Wind Gap, Pennsylvania, with his wife and son.
Dorcas:
Blessed people
Posted 12/06/2015 04:57 PM
Jo:
Yes, we do all need this. Thank you so much for your poem.
Posted 12/04/2015 08:59 PM
Mary B.:
Mary B. How ironic that this was the poem of the day on the 30th anniversary of the signing into law of the act to provide education and special help for the very people who were killed in California-- Mary B.
Posted 12/03/2015 02:31 PM
Lori Levy:
Beautiful. Brought tears to my eyes.
Posted 12/02/2015 03:46 PM
Don Colburn:
Thank you, Ed. Again. We needed this. We all need this.
Posted 12/02/2015 11:53 AM
Ginny C.:
Edwin Romond's poetry is characterized by great empathy and humanity, as is evident in this poem.
Posted 12/02/2015 11:08 AM
barbsteff:
"my brothers in parenthood," great line!
Posted 12/02/2015 10:24 AM
njc:
Yes, simply beautiful....one to read over and over.
Posted 12/02/2015 09:27 AM
mimi:
lovely poem, Edwin,thank you.
Posted 12/02/2015 08:37 AM
Cindy:
beautiful
Posted 12/02/2015 08:27 AM
Dorothy:
Actually brought me to tears ...
Posted 12/02/2015 08:17 AM
phebe.davidson@gmail.com:
Dream Teaching has been a staple of my reading diet for years---poems like this one a big part of why it endures!
Posted 12/02/2015 05:32 AM
rhonasheridan:
Simply beautiful.
Posted 12/02/2015 04:53 AM