Everyone has had a bath
and is in pajamas. The floors
are scrubbed and waxed; the tree is lit.

In town, there will be a midnight mass,
but it's snowing, and it would be hard
for us to go with all of the little ones.

We don't have a fireplace, and we don't hang
stockings—besides, we're not getting presents
this year; Black Peter saw us fighting.

I like the story of Rudolph the Red-Nosed Reindeer
better than Santa coming down the chimney.
The truth is, I don't like Santa at all.

I know the real story about Christmas, which
Sister Vincent read to us at school. I also
know about the Communists in Hungary

and the little fir tree in the Hans Christian
Anderson's forest, the one who wanted to be
important and ended up in the dustbin.

When I finally fall asleep, it's only because
I remember the kind eyes of the cows
and their warm breath over the hay-filled crib.


© by Joyce Sutphen.
Used with the author's permission.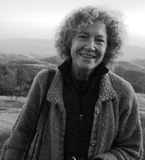 Joyce Sutphen is the author of four award-winning books of poetry and co-editor of To Sing Along the Way, an anthology of Minnesota women poets. A professor of literature and creative writing at Gustavus Adolphus College in St. Peter, Minnesota, she has garnered multiple fellowships and residencies in the course of her poetry career. The oldest of nine children, Joyce is mother to three daughters and has six grandchildren. She loves both prairie and city and says "a perfect afternoon for me would be a long walk around the big marsh behind my house, or a ramble through Holland Park in London." A fan of Shakespeare, Joyce often uses her commute time to memorize poems by favorite poets.
paradea:
Good one!!!
Posted 12/26/2015 07:44 AM
rhonasheridan:
This is a truly lovely Christmas poem. I agree with every word. I
Posted 12/26/2015 01:27 AM
Lori Levy:
A very unique Christmas poem!
Posted 12/24/2015 10:56 PM
jtmilford:
Warm breath over hay filled crib. Maybe the moral of this poem is that we should be like cows, eat, sleep, have kind eyes and not hurt anyone not even cows.
Posted 12/24/2015 04:25 PM
barbsteff:
Lovely and surprising in a good sort of way.
Posted 12/24/2015 10:56 AM
KevinArnold:
I like how confidently this poem moves from one reality to another, honing in on the Christmas tale I just wish Black Peter hadn't seen them fighting.
Posted 12/24/2015 09:18 AM