Christmas morning. I wake early
to a strange noise from below,
and, in my footed pajamas, holding
on to the railing, I creep down the
shadowy stairs leading from the
chauffeur's flat to the workroom
below. Of all things, there's my
father bending over an electric train
whizzing round and round an oval
track nailed to a piece of plywood.
He doesn't see me, but I watch him
caught as he is in the mystery of train
lights, ruby and white, circling in
the half-darkness. For awhile I don't
make a sound, but watch him,
wondering about his strange smile.

All these years later, I tiptoe down
the stairs again, now understanding
the poverty of his childhood
and the jobless years of the Depression,
and I watch him and imagine him thinking —
I am able
to give to my children,
for Christmas,
this wonder.

© by Nils Peterson.
Used with the author's permission.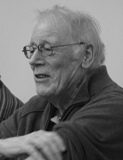 †Nils Peterson is Professor Emeritus at San Jose State University. In 2009, he was chosen the first Poet Laureate of Santa Clara County. He has published poetry, science fiction, and articles on subjects as varied as golf and Shakespeare, and his work was featured in†Local Habitations, a collection of work by fellow poets laureate of Santa Clara County. Enjoy reading Nilsí memoir at†http://www.echapbook.com/memoir/peterson/.
†
TheSilverOne:
What a beautiful poem....loved it.
Posted 12/28/2015 12:23 AM
phoswald:
This awakens a delightful memory of the Christmas my mother gave my father his first electric train. Oh, how he enjoyed it. He was also a child of the Depression
Posted 12/26/2015 02:21 PM
barbsteff:
"now understanding/the poverty of his childhood/and the jobless years of the Depression" are the lines that make the poem, in my opinion.
Posted 12/26/2015 12:46 PM
Jancan:
Nostalgia at its best--through the eyes of two generations. Janice Canerdy
Posted 12/26/2015 09:13 AM
Wilda Morris:
A touching poem. And a good expression of how we reinterpret childhood memories when we understand more of the childhood of our parents.
Posted 12/26/2015 08:09 AM
paradea:
Heart-warming!
Posted 12/25/2015 06:33 PM
jtmilford:
A beautiful poem about times that now few have experienced.
Posted 12/25/2015 03:59 PM
Janet Leahy:
A beautiful Christmas poem, endearing to see the understanding that comes with years.
Posted 12/25/2015 03:14 PM
Lori Levy:
Beautiful sentiment!
Posted 12/25/2015 02:33 PM
KevinArnold:
What a delight to wake up to a poem Nils read to us the other night at a reading in the Willow Glen neighborhood of San Jose . . . he ends it so beautifully. And the chauffeur's-child situation reminds me of Sabrina, which brings me to our class-based society. But Nils cuts through all that with his hopeful ending. A joy!
Posted 12/25/2015 12:26 PM
jeeger:
It was the chauffeur's flat that hit me the most...
Posted 12/25/2015 09:15 AM