The grey lid has been
lifted off the day.

Sun spills everywhere —
on snow, on house, on

me at the window.
No wind in the willow,

no birds in bare branches,
no sadness in the absence.

Only the shine, instead,
the spin and dalliance

of every amazing
particular thing

in the long, the lovely
the almost perfect light.
Used with the author's permission.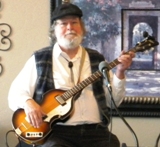 Tom Montag was raised on an Iowa farm, but now lives in Wisconsin. Retired from a career in the printing industry, he is the author of several books of poetry as well as several books of prose. He's also a songwriter and plays bass, as often as he can. Tom teaches creative nonfiction and poetry at The Mill: A Place for Writers, in Appleton, Wisconsin, and his work has appeared in numerous literary magazines. With David Graham, he is currently editing an anthology of poetry about small towns. Tom's poem, "Lecturing My Daughter on Her First Fall Rain," has been incorporated into the permanent design of Milwaukee's Convention Center, along with the work of other Wisconsin writers. Learn more about him at www.middlewesterner.com.

jtmilford:
Beautifully expressed with sparse words, every word counts. Thanks
Posted 12/23/2014 07:39 PM
Mike Finley:
Beautyful
Posted 12/23/2014 08:38 AM
rhonasheridan:
Oh yes - it is so rewarding to have someone express a beautiful feeling you have had yourself.And a treat when it is expressed so well. Lovely!
Posted 12/14/2014 01:10 AM
mimi:
exquisitely lovely, Tom. thank you. Sharon Auberle
Posted 12/12/2014 09:13 AM
mmatteis:
Beautiful. Makes me embrace winter. Margherite Matteis
Posted 12/12/2014 08:51 AM
Gary Busha:
So well written in so few words.
Posted 12/12/2014 06:22 AM
Ross Kightly:
For 'our' read 'out' of course... Grrrrrr....
Posted 12/12/2014 12:43 AM
Ross Kightly:
Oh Yeah! (Refers to the impact of the poem, like one of those rays of winter sun & my reaction to the comment about not knowing what to do when one grows up!) My ex-Maths teacher would not be surprised if I give this poem 2,321 our of 10!
Posted 12/12/2014 12:43 AM
KevinArnold:
All those couplets, what fun. I particularly liked: no sadness in the absence. Only the shine, instead, the spin and dalliance of every amazing particular thing
Posted 12/11/2014 11:30 PM