Hail to Lucia,
the virgin of light
who comes bearing hope
on this dark winter's night,
illumined by candles enwreathed
in her hair, a shimmering vision,
so pure and so fair.

This daughter of God sought
to serve and to save;
her mission of mercy
no knave could dissuade.
Surrounded by star boys,
she brightens the world--
miraculous one
who, when violence unfurled,
stood fast in its path,
demonstrating blind faith,
her dauntless heart housed
in a soul, not a wraith.

Lucia of Sicily, servant of heaven,
whose unfailing courage and kindness
did leaven the sins of the world
with love selfless and rare
For you, Saint Lucia, we offer a prayer
of praise and thanksgiving,
and then let us say,
Come bring us nourishment!
Come, light our way!
© 2009 by Jayne Jaudon Ferrer
Used with the author's permission.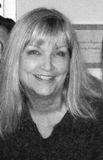 Jayne Jaudon Ferrer is the author of four books of poetry and a nonfiction books about games. A public relations specialist and freelance journalist, Ferrer speaks frequently at chuches, schools, and writing-related events. Her work has appeared in hundreds of publications, ranging from Boca Raton Magazine to Christian Parenting Today, and she is the founder and editor of YourDailyPoem.com. Originally from Florida, Jayne now lives in Greenville, South Carolina. The mother of three sons, she enjoys reading, music, old movies, and good conversation. Learn more about Jayne at www.jaynejaudonferrer.com.
pwax:
Well done, Jayne!
Posted 12/14/2014 08:09 PM
ldkulp:
Lovely!
Posted 12/13/2014 05:59 PM
Dorcas:
Thank you. Nice to get a look at the Poette Lauriette of the Day. Bless us all, St. Lucia.
Posted 12/13/2014 05:38 PM
Mary Lou Taylor:
Lovely picture, lovely poem. Thank you for this, Jayne. In the Catholic tradition we wore purple and carried different objects up the aisle. Mine was a sheaf of wheat. Wonder what we were celebrating. I must have been eight years old. I still have the picture and should follow up with a poem.
Posted 12/13/2014 02:52 PM
Jean :D:
This is a very lovely, DELIGHTFUL poem, I've not come across something so nice about St. Lucia. Thanks for your "Christmas gift" to us! Jean :D
Posted 12/13/2014 09:12 AM
Larry Schug:
This a very skillfully rhymed poem, not forced and not sing-song. As always, it's all about light. Just ask Rudolfo Anaya.
Posted 12/13/2014 08:01 AM
mimi:
and a fine poem it is! thanks, Jayne!
Posted 12/13/2014 06:50 AM
mmoq:
I love this poem. I especially like the appearance of free verse but then the pleasant surprise of rhyme and rhythm embedded within. Merry Christmas to you and yours.
Posted 12/13/2014 05:44 AM
rhonasheridan:
I love traditions. Enjoyed your poem. Have a locvely Christmas.
Posted 12/13/2014 04:56 AM
Katrina:
Great poem. Great photo.
Posted 12/13/2014 01:12 AM
Jo:
Thank you Jayne for penning this poem. It is hard to believe that there isn't anything out there. I enjoyed it very much.
Posted 12/12/2014 11:48 PM
TheSilverOne:
Makes me miss all those beautiful old traditions like processions, the legends, stories about saints. Loved reading this poem, and the photo is lovely. Doris Bezio
Posted 12/12/2014 11:44 PM
phoswald:
A delightful poem that brightens everyone's day in this Advent season.
Posted 12/12/2014 11:17 PM