Under the hairdryer,
without my bifocals on,
I gaze across the beauty salon.
I see beautiful shades
of sparkling sherry,
shimmering blond,
and amber brown
framing blurred faces.

Everyone is lovely.
Everyone is equal.
There is no discrimination.
I have an inkling
of what heaven must be like.
I linger under the hairdryer
twenty minutes longer
tentatively
holding back reality.
From Why I Miss New Jersey (CreateSpace, 2013).
Used with the authorís permission.
†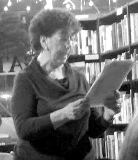 Barbara Eknoian lives in La Mirada, California. From her store of vivid memories, she writes a lot about her growing-up years. Originally from New Jersey, she was forever homesick until she joined Donna Hilbert's poetry workshop in Long Beach. Barbara was the first recipient of the Jane Buel Bradley Chapbook Award for her collection,†Jerkumstances†(Pearl Editions).
†
KevinArnold:
Fun.
Posted 01/14/2016 02:11 PM
erinsnana:
I love this poem! I took my glasses off once on a boat ride and wrote a poem about it. It gave me new perspective.
Posted 01/14/2016 11:29 AM
peninsulapoet:
My first favorite Barbara Eknoian poem. Many have followed.
Posted 01/14/2016 10:47 AM
Katrina:
Jayne, your comment reminds me of Arthur Miller's novel: 'Focus' I wonder how we can combat discrimination. Acknowledging it poetically is a great start and I like the way this poem wryly appreciates its own gentle delusion.
Posted 01/14/2016 03:59 AM