With careful attention
we scrape the red, bean-field soil
from your trash heaps
 
Would you have thought
we could presume
so much about you
from the little you cast off
   a worn yucca fiber sandal
   pieces of broken pots
   ashes from your cooking fires
   a weathered bead or two?
 
We, who create tons of garbage
to grind, burn, bury, mix and melt
touch with reverence
your scattered bits
We map them, number, measure,
photograph, and encase them
in airtight displays.  We enact laws
to protect what you found useless
 
We have searched your ruins
for a hundred years,
tested and tallied,
and still you elude us
Your spirits linger
just beyond our reach

This poem first appeared in The Footprints of Shadows (Feathermoon Press, 2000).
Used here with the author's permission.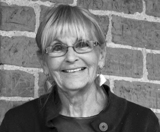 Ginny Odenbach taught elementary, high school, and college students in Nebraska and Wyoming. Now retired, she lives in southwest Nebraska. Ginny has three children, three grandchildren, and seven grand dogs, all of whom are scattered from the Midwest to the West coast, making her a somewhat frequent flier. She is the author of eight books of poetry and coauthor of three books for young readers and resource guides for teachers.Ginny's latest work is Ekphrasis, a book of art and poetry created with artist Don Schaaf. When not writing, gardening, or traveling, she enjoys making handmade journals and cards—anything with paper.
Dorcas:
Comforting to be in touch with such a reflection. Thank you.
Posted 01/19/2016 12:05 PM
jtmilford:
Things never quite reveal spirit. Lovely poem-thanks
Posted 01/18/2016 08:32 PM
Kbc:
The last two lines say so much. No matter the study, the excavation, the ... anything ... it's beyond our knowledge.
Posted 01/18/2016 06:19 PM
Michael:
Love the detail and the wisdom contained in this poem. Thank you.
Posted 01/18/2016 11:27 AM
ElizabethP:
I absolutely love this poem. Thank you for sharing it.
Posted 01/18/2016 09:35 AM
cork:
One man's trash is another man's treasure. Bravo.
Posted 01/18/2016 08:54 AM
Sherry:
This is a well-crafted poem. I like it a lot.
Posted 01/18/2016 08:38 AM
jeeger:
My son has some kind of magic gift for 'finding' arrowheads. For some reason his eye is drawn to them, he sees what others miss, and he always wonders, "Who were these people, what hands made this?" Loved this poem.
Posted 01/18/2016 02:19 AM