I'm an analog man in a digital world.
I'm relevant as vinyl.
I'm so lost in cyberspace
even a Google search can't find me.

I suspect . . .no, I know
my smart phone is smarter
than I. It asks me
questions I can't answer,
takes me places
I'm too stupid to exit.
I have to ask my grandchildren
to help me figure out
what I've done,
where I've gone,
how I got there,
even who I am
in this brave new world
of compact, candy-colored
super-conductivity.

If I were a color,
I'd be beige.
If I were a flavor,
I'd be very very vanilla.


© by Mike Orlock.
Used with the author's permission.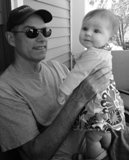 Mike Orlock is a retired high school English and American History teacher who splits time between the Chicago suburbs and a vacation home in Sturgeon Bay, Wisconsin. He has been married for 40 years to his high school sweetheart and inspiration, Liz, and greatly enjoys being grandfather to four beautiful little girls. Mike's short stories, poems, and reviews have appeared in a variety of publications and he was a Jade Ring winner in last year's annual contest sponsored by the Wisconsin Writers Association.
Liz:
Well said!
Posted 01/20/2016 08:57 PM
mjs.ontheroad@gmail.com:
Oh, so very true! I'm sure I was a smart person once upon a time; it's so unfair!
Posted 01/20/2016 10:36 AM
barbsteff:
Well said lament of the older person, the very late adapter, and the totally befuddled.
Posted 01/19/2016 11:01 PM
Shoshauna Shy:
What, no books by this guy? Someone encourage him to put a manuscript together!
Posted 01/19/2016 08:54 PM
rtaylor947@aol.com:
A common lament, well-put!
Posted 01/19/2016 12:40 PM
Dorcas:
I too, am lost in the cyper cloud, and also the alphabet. Don't know how to get to my expressions. I'll keep it all to myself.
Posted 01/19/2016 12:08 PM
Michael:
I can relate, Mike. Vanilla is my favorite flavor but I like hot chocolate sauce and a few walnuts sprinkled on. Wonderful piece that speaks to "my" reality. Michael Escoubas
Posted 01/19/2016 11:50 AM
TheSilverOne:
What a truly wonderful poem! Enjoyed reading it several times.
Posted 01/19/2016 11:33 AM
transitions:
So true! But, you made it fun ~ with a cherry on top!
Posted 01/19/2016 11:20 AM
Jancan:
Mike, I too am a retired beige/vanilla high-school English teacher! Thanks for speaking to and for me today! Janice
Posted 01/19/2016 10:48 AM
mimi:
as one who is lucky enough to be in a critique group with this guy, believe me, he is NOTHING like vanilla! good one, Mike!
Posted 01/19/2016 09:42 AM
cork:
A Google search found you.
Posted 01/19/2016 08:37 AM
Larry Schug:
You wanna call me up? My phone would be the one attached to the wall. Obviously I can do email, otherwise I'd have missed this fine poem.
Posted 01/19/2016 06:36 AM
paula:
40 years and a jade ring--sounds like a good life to me. Nice poem. Old age--what ya gonna do?.
Posted 01/19/2016 05:58 AM
Laurenepersons:
Oh so true. Every other month, my son must talk me off of the technological ledge. You may not tweet or instagram, but your words are read, reread and take time to sink into hearts and minds.
Posted 01/19/2016 05:33 AM
Jean :D:
I whole heartily agree with jeeger. I can also relate to Mike's fun poem.
Posted 01/19/2016 04:27 AM
jeeger:
Cool thing about vanilla - the things you can add to it to make it extra-ordinary. Chocolate sauce, strawberries, fudge, caramel... nuts...and here I would add a great big smile. Delightful, insightful poem.
Posted 01/19/2016 03:52 AM
Ross Kightly:
The virtues of fitting the trend can easily be overrated but those of vanilla as a subtle flavour - well, that's a different scoop of gelato! Greetings from another whose phone outfoxes him regularly.
Posted 01/19/2016 02:35 AM