I pick through Aprilís shrunken woodpile,
throw chips and divots of winterís wood-splitting
in the wheelbarrow?box elder chips,
chunks of half-rotted, bone-dry elm,
popple splinters, an odd pine block or two?
all too small or fast-burning
to sate the woodstoveís January appetite,
but enough to re-kindle a little sunlight,
released in a small fire on a cool morning,
the same way a jar of home-canned peaches releases
the buzz of honey bees on peach blossoms when opened.
I re-pile oak logs, save them for next winterís cold nights
like jars of sweet peaches, stored on the pantry shelves,
saved for cobbler and pies when the trees are bare.
The thought creeps into my head
that a lot of folks wonít see another harvest, another winter.
I hope itís not us, honey; but just in case it is,
letís open a jar of peaches for breakfast,
savor†a hint of summer†as we huddle†before the fireplace.
†
© by Larry Schug.
Used with the authorís permission.
†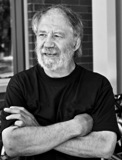 Larry Schug, after a work life of various kinds of manual labor and learning, is retired—a career he says he was born for. Author of eight collections of poetry (the most recent is A Blanket of Raven Feathers, from North Star Press), Larry is a volunteer writing tutor at the Writing Center at the College of St. Benedict and a volunteer naturalist at Outdoor U. at St. John's University. He lives with his wife, dog, and three cats near a large tamarack bog in St. Wendel Township, Minnesota.
Dorcas:
Wonderful reflection using peaches at the core of a life well lived. Thank you.
Posted 01/20/2016 09:06 PM
jtmilford:
Wonderfully descriptive writing. Now I am hungry for peaches,
Posted 01/20/2016 07:42 PM
Jo:
Larry, I can't begin to tell you how heart-warming and comforting you poem. Yes, it is well crafted and all that, but after two days in the hospital with my husband's broken knee cap, I came home just now and knew I'd be writing to you. The peaches are delicious. The fire exactly what was needed/ is needed. Thank you for this terrific poem.
Posted 01/20/2016 07:37 PM
Mary Lou Taylor:
I'm with Larry, opening that jar of peaches.
Posted 01/20/2016 05:40 PM
phebe.davidson@gmail.com:
Clearly, this poet knows what comfort is!
Posted 01/20/2016 12:45 PM
transitions:
I can taste the peaches...thanks for a wonderful poem.
Posted 01/20/2016 12:41 PM
Caro70:
Robert Frost would approve, Larry. What a splendid poem! You make it look so easy!
Posted 01/20/2016 09:56 AM
robertcurrie:
Peaches and firewood--how well you put them together. That's craftsmanship.
Posted 01/20/2016 09:52 AM
Lori Levy:
Beautiful. Creates warm feeling!
Posted 01/20/2016 09:46 AM
SAR2126:
I couldn't figure out how the poem was going to tie together, but what a beautiful ending it has -- perfect.
Posted 01/20/2016 09:25 AM
Glen Sorestad:
Loved the poem. Larry. I have the taste of peach on my tongue, even now.
Posted 01/20/2016 09:01 AM
jeeger:
Firewood and canned peaches...two of my favorite things!
Posted 01/20/2016 08:56 AM
Janet Leahy:
This poem travels in such an easy way from the jars of sweet peaches back to the peach blossoms and the truth that not everyone will be here for the next harvest. The warmth of this small fire lingers as I read the poem again.
Posted 01/20/2016 06:33 AM