Trying out for the Senior Class Playís
romantic lead opposite my girl but coming in
second to popular handsome hunky Everett
then having to watch him romancing her
on-stage from backstage for weeks.
© by Michael Estabrook.
Used with the authorís permission.
†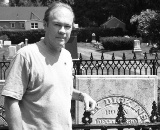 Michael Estabrook is a recently retired baby boomer child-of-the-sixties poet freed finally after working 40 years for "The Man" (and, sometimes, "The Woman"). No more useless meetings under florescent lights in stuffy windowless rooms. Now he's able to devote serious time to making better poems when he's not, of course, trying to satisfy his wife's legendary Honey-Do List.
mjs.ontheroad@gmail.com:
Sweet and funny poem. Michael could also adapt his bio to poetic form, for a similar style!
Posted 01/22/2016 10:30 AM
Dorcas:
I can relate to this in the opposite gender.
Posted 01/21/2016 05:26 PM
Shoshauna Shy:
Every syllable in just the right place ----
Posted 01/21/2016 02:45 PM
Lori Levy:
Says a lot in a few short lines!
Posted 01/21/2016 09:39 AM
rtaylor947@aol.com:
Ross said it for me.
Posted 01/21/2016 09:07 AM
Kbc:
Ah yes, and how does she feel about it?
Posted 01/21/2016 08:44 AM
Ross Kightly:
Breathes there the man whose heart is not pierced by the arrow of this poem?
Posted 01/21/2016 03:14 AM