I'm sick of them,
these wreaths —
brown, desiccated,
with forlorn red bows
they linger on doors and windows
in the strengthening sun.
There must be fifty in my neighborhood alone.
It's almost Easter.
They have to go.
Green and fresh, in dark December
they gladdened the heart
but it's long past time to
recycle, bury or burn.
I fantasize about roaming the streets
picking off wreaths with
silent rubber bullets.
I should get a medal from the mayor.
The Wreath People puzzle me —
they live among us, but why?
Is it laziness, inertia, an arcane ritual,
or do the dead wreaths
mark their houses for the mother ship?
From Thank Your Lucky Stars ((Moon Pie Press, 2011).
Used with the author's permission.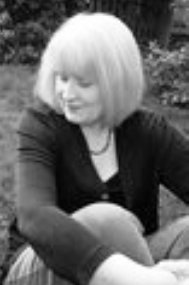 Alice N. Persons was born in Massachusetts, grew up in the Army, and graduated from high school in Virginia. She has a BA and MA from the University of Oregon and a J.D. from the University of Maine School of Law. Alice is the editor and publisher of Moon Pie Press, which has published 87 books of poetry since 2003; a full catalog, sample poems, and other information can be found at  www.moonpiepress.com. Alice is the author of two poetry collections, the most recent published in December 2015. She lives in Westbrook, Maine, with three cats and a dog, where she teaches part time and volunteers for animal welfare and at her local library.
jeeger:
I'm still laughing about the last line! Brilliant!
Posted 01/24/2016 07:35 AM
loisflmom:
Maybe the author should live in my condo complex, where there is a date when decorations may be put up, and another when they must be taken down. Beware the condo cops!!
Posted 01/22/2016 01:38 PM
Michael:
Sometimes the truth grates a little, but it is still the truth! Thanks Alice
Posted 01/22/2016 11:17 AM
Lori Levy:
Good point. Asks an interesting question, in my opinion.
Posted 01/22/2016 09:53 AM
Larry Schug:
While I say "live and let live", I do feel badly about the trees that lost limbs for mere decoration. I think they would serve a better purpose as perches for birds. This poem did get a reaction from me, however. What else can you ask for?
Posted 01/22/2016 07:41 AM
phebe.davidson@gmail.com:
Those rubber bullets are a real temptation, aren't they?
Posted 01/22/2016 06:55 AM