I've taken to writing lately, the old kind,
my day's agenda set down in old-fashioned ink
I draw from one of those squat, prism-shaped bottles
found at estate sales or in musty Venetian shops.

On a meadow of paper whose spring is the pen's nib,
a woodland creek of my making flows.

For years I lost track of her, my fountain pen,
a separation born of my senseless neglect.
She's aged well, no less shapely, I see.
As I hold and warm her, her tarnish wears off.

We start the day together, she insistent
on careful finger-and-eye interplay: artful swirls,
pleasant tilts and dips, measured spacing,
lazy backslides (the tail of the "y"),
well-placed touches (dotted "i's," crossed "t's")
and once in a while a robust stroke
let loose in a moment of mini drama ("!").

More and more I like this, my morning begun
unrushed, with some flair, my tasks

____books to the library
____stamps at the post-office
____trash out

an elegant list in florid indigo.
© by Richard Swanson.
Used with the author's permission.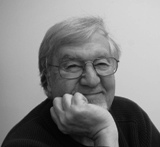 Richard Swanson is a retired English teacher who takes joy in having time to appreciate the finer things in life. Author of several books, most recently a satirical chapbook about popular culture, Paparazzi Moments (Fireweed Press), Richard lives in Madison, Wisconsin, where he enjoys reading, cooking, and gardening.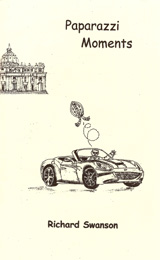 ed werstein:
Great work, Richard.
Posted 01/25/2016 02:51 PM
jeeger:
Nice reminder of how much I really do like to write - the old fashioned way. It slows things down, way down...until that one really idea rushes in and I'm writing with long sweeping arcs that mark my enthusiasm. I miss that.
Posted 01/24/2016 07:40 AM
rhonasheridan:
My writing is now so bad that I can hardly read it myself. I have a dear friend my age (considerable ) who always hand-writes her immaculate letters and it is a real pleasure to see the hand-written envelope , let alone the contents. Hers are the only hand-written letters I get. They make my day. , pp
Posted 01/24/2016 05:39 AM
Jo:
Richard, What a flow, a cursive flow this poem runs with. A river of words ambling along, taking its time around the bends, etc. Thanks so much.
Posted 01/23/2016 06:05 PM
transitions:
Cursive is Necessary! And, how I treasure my old, hand-written letters, - my mother's hand, know it anywhere, friend's, recipes:) Thanks for reminding us of the importance in your lovely poem.
Posted 01/23/2016 02:36 PM
jtmilford:
loved your exquisite written poem.
Posted 01/23/2016 01:38 PM
Jani:
Memories of my days at the calligraphy desk. Thank you.
Posted 01/23/2016 11:54 AM
Shoshauna Shy:
Richard, love this, so perfectly Richardesque! I have a feeling that science will show the developing brain needs cursive, and it will be reinstated in the schools in a generation or two. Just a hunch. And your poem could help convince everyone!
Posted 01/23/2016 11:50 AM
Janet Leahy:
This poem flows with ease just as cursive writing flows down a page of "florid indigo." What fun to remember the musty Venetian shops! Thanks Richard for the "artful swirls" of your poem.
Posted 01/23/2016 09:58 AM
jeanie:
yes! love the exquisite to-do list! yay for pens and pencils in the hand ;-)
Posted 01/23/2016 09:54 AM
blueskies:
Lovd'd IT! For celebrating this art form Thank you~ in florid indigo-ism. Smiles.
Posted 01/23/2016 09:21 AM
mimi:
yes, yes, Richard, I am appalled by the lack of teaching cursive..so wrong! thanks for your good poem... Sharon Auberle
Posted 01/23/2016 09:11 AM
Jancan:
Richard, I really like--and can relate to--your poem! I too am a retired English teacher who loves what we can do with a simple ink pen IN CURSIVE! When I was told recently that cursive was being phased out, that teachers in many areas are no longer being required to teach it, I was floored! Janice
Posted 01/23/2016 09:03 AM
Larry Schug:
More like hopeful! Who knows what the pen and ink might reveal?
Posted 01/23/2016 07:19 AM
mjorlock:
Very clever and exquisitely written.
Posted 01/23/2016 07:18 AM