In the madness of the moment,
in the quest for the unknown,
when a drunken dunderhead forms a wondrous idea,
when the rich man throws money in the street,
when a hand extends to someone falling,
††††††††††† or when a child teaches an adult,
such as how to look with fresh eyes upon
an early morning sky?

†

At such times you need not wonder,
you need not climb on the roof to shout,
or hammer every individual over the head,
insistent that what youíve learned is true,
††††††††††† but be thankful for your brief clarity,
for that slice of reality in which the skies fell apart,
fell down, split open so that you, the small composite
that you are, could say I see, yes, I see.

From Factory Rejects: Two for a Nickel (Wolfsong Publications, 2015).
Used with the authorís permission.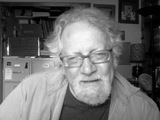 Gary Busha is a Wisconsin native who likes that state's changing seasons. His poetry — lean and plain-spoken, with themes of nature and lament — is strongly influenced by his good fortune in having grown up on Lake Winnebago. A poetry chapbook publisher for many years, Gary has three chapbooks of his own, and he has recently finished 12 pocket-sized mini-series of haiku. Query gbusha@wi.rr.com for a free sample.
mimi:
Lovely, Gary..
Posted 01/27/2016 08:35 PM
TheSilverOne:
This is just incredibly beautiful, Gary... ~~Doris Bezio
Posted 01/27/2016 11:34 AM
ElizabethP:
Absolutely love this one!
Posted 01/27/2016 11:11 AM
tiddles:
Much value can be found in small observations, especially those which surprise us, which life-smack us. Good poem. M.Zelke-Windau
Posted 01/27/2016 10:59 AM
Michael:
Love, "the skies fell apart, feel down" Thank you,Gary
Posted 01/27/2016 10:11 AM
paradea:
Love this!
Posted 01/27/2016 09:27 AM
rnordstrom:
Very nice, Gary.
Posted 01/27/2016 09:11 AM
Larry Schug:
A great lesson on how to be open-minded, open-handed, open-hearted done in a fine poetic way.
Posted 01/27/2016 08:16 AM
vscholtz:
Isn't this a great way to begin my morning. thanks.
Posted 01/27/2016 07:58 AM
jonidee61:
Wow! I love this.
Posted 01/27/2016 07:47 AM
ed werstein:
Excellent work, Gary.
Posted 01/27/2016 07:47 AM
jeanie:
subtle and wise and quiet. very nice, Gary.
Posted 01/27/2016 07:19 AM
paula:
Lovely. Have been reading your poems for years.
Posted 01/27/2016 05:34 AM