What crowding thoughts around me wake,
What marvels in a Christmas-cake!
Ah say, what strange enchantment dwells
Enclosed within its odorous cells?
Is there no small magician bound
Encrusted in its snowy round?
For magic surely lurks in this,
A cake that tells of vanished bliss;
A cake that conjures up to view
The early scenes, when life was new;
When memory knew no sorrows past,
And hope believed in joys that last! —
Mysterious cake, whose folds contain
Life's calendar of bliss and pain;
That speaks of friends for ever fled,
And wakes the tears I love to shed.
Oft shall I breathe her cherished name
From whose fair hand the offering came:
For she recalls the artless smile
Of nymphs that deck my native isle;
Of beauty that we love to trace,
Allied with tender, modest grace;
Of those who, while abroad they roam,
Retain each charm that gladdens home,
And whose dear friendships can impart
A Christmas banquet for the heart!
This poem is in the public domain.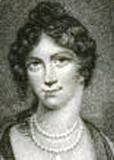 Poet and novelist Helen Maria Williams (1761 - 1827) was the daughter of a Welsh father and a Scottish mother. Vocal from an early age in her support of the French Revolution, one of her poems so annoyed Napoleon that he had her arrested. Though British by birth, Helen was predisposed to use an abundance of French idioms and spellings in her work, an affectation that did not endear her to readers in her homeland. She spent much of her adult life living in Paris, hosting Sunday afternoon teas and salon discussions.
jedolphin:
Put me in mind of Wordsworth -- "INTIMATIONS OF IMMORTALITY FROM RECOLLECTIONS OF EARLY CHILDHOOD" especially, X. Then sing, ye Birds, sing, sing a joyous song! And let the young Lambs bound As to the tabor's sound! We in thought will join your throng, Ye that pipe and ye that play, Ye that through your hearts to-day Feel the gladness of the May! What though the radiance which was once so bright Be now for ever taken from my sight, Though nothing can bring back the hour Of splendour in the grass, of glory in the flower; We will grieve not, rather find Strength in what remains behind; In the primal sympathy Which having been must ever be; In the soothing thoughts that spring Out of human suffering; In the faith that looks through death, In years that bring the philosophic mind.
Posted 12/16/2014 09:31 AM
lincolnhartford:
Much Welsh poetry is fueled by a longing for that which once was, or might have been, but will not be again: "hiraeth". E.g., Dylan Thomas, and evidently, Helen Maria Williams. I can identify with her, even with the rhyming.
Posted 12/15/2014 09:35 AM
cork:
Oh, how I love the rhymes that mimic Christmas chimes.
Posted 12/15/2014 08:48 AM