(An Excerpt)
What ecstasies her bosom fire! 
How her eyes languish with desire! 
How blest, how happy should I be, 
Were that fond glance bestow'd on me! 
New doubts and fears within me war: 
What rival's near? A china jar.
China's the passion of her soul; 
A cup, a plate, a dish, a bowl, 
Can kindle wishes in her breast, 
Inflame with joy, or break her rest.
This poem is in the public domain.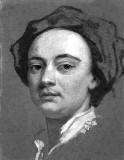 John Gay (1685 - 1732) was an English poet and playwright. His family was of noble ancestry but had no money, so John was unable to pursue a university education. He briefly apprenticed with a silk merchant but, bored and unhappy, he soon followed his heart and capitalized on his talent for writing. His friends included Alexander Pope, Jonathan Swift, and composer Georg Frideric Handel; most of his income came from patrons. His best known work is The Beggar's Opera, a satirical parody of 18th century British society and Italian opera.
Jancan:
An interesting choice of poem for the day, Janice
Posted 01/31/2016 01:06 PM
Jo:
This is perfect for you sister, Jayne. She must be pleased. Happy Birthday, Vera.
Posted 01/31/2016 12:01 PM
KevinArnold:
What fun. Jayne, thank you.
Posted 01/31/2016 10:36 AM
Lori Levy:
Seems like a perfect tribute to your sister, Jayne!
Posted 01/31/2016 10:30 AM
rhonasheridan:
Mmm.....me too. Getting old and reduced to living in one room was not easy! As I write I can see two little plates I swear I can't live without!! Not to mention the little butter dish.....and then there is the blue. ....... Whoa! Ah well - I still (almost). Have a memory!
Posted 01/31/2016 04:07 AM