She sent a letter
to Milwaukee
on a whim
to him whom
she barely knew
a friend's brother
The letter squealed "Hi" in
College freshman cursive

He sent a reply
to Rochester, NY
on a chance
to her whom
he didn't know
a brother's friend
The letter said "Hey" in
Working bachelor scrawl

She sent another letter
He another reply
Letter, reply, letter, reply
A thousand times
She called and asked to meet him
A phone call that finished
all that the letters had started
Love,
Marriage,

Sincerely Yours.
© by Jim Landwehr.
Used with the author's permission.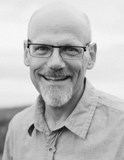 Jim Landwehr enjoys writing creative non-fiction, fiction, and poetry. He is the author of a recently published poetry collection and a humorous memoir about 25 years' worth of travel to the Boundary Waters Canoe Area in northern Minnesota. When he's not writing or enjoying the great outdoors, Jim works as a geographic information systems analyst for the Department of Parks and Land Use. Originally from Minnesota, Jim now lives in Waukesha, Wisconsin with his wife, Donna, and their children, Sarah and Ben. Learn more about him at sites.writerjimlandwehr.com and www.writerjimlandwehr.com.
jlandwehr:
Thank you everyone. It is true. We celebrated 25 years this past June. http://www.writerjimlandwehr.com/2013/03/mail-order-bride.html
Posted 02/01/2016 09:48 PM
mjs.ontheroad@gmail.com:
--sweet! --and what a great way to begin two weeks of love poems! (Please ignore the nay-sayers.)
Posted 02/01/2016 09:31 PM
transitions:
Was it really so? Lovely story poem.
Posted 02/01/2016 12:04 PM
fuddygail:
oh, delicious...
Posted 02/01/2016 10:02 AM
barbsteff:
He captures well the young feminine cursive and the masculine scrawl.
Posted 02/01/2016 09:51 AM
Jo:
I so enjoyed hearing this story the first time from you and Donna--now here it is and enjoyable all over again. Who would of thought?
Posted 02/01/2016 09:44 AM