as if some cunning craftsman
had spun metal
into silken thread.
It was chestnut brown when we met.
Her skin, all smooth then,
has begun to show fine webs
and is slack under her once firm chin.
But, when I look on her, I think
this is the girl I wed
and feel the need to kiss her cheek
or, if she's bent over some task,
the nape of her neck
or, if she's sitting with the hem of her dress
resting on her thighs,
to reach out and touch her knee.
© by Richard Greene.
Used with the author's permission.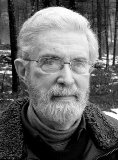 Richard Greene began writing poetry in the 8th grade, inspired by the opening lines of Longfellow's "Evangeline"—"This is the forest primeval. The murmuring pines and the hemlocks / Bearded in moss and in garments green, indistinct in the twilight"—which he was required to read in class. In college, after a classmate deemed Richard's rhyming poem "trite," he stopped writing until, several years later, a class with Henry Rago, then editor of Poetry magazine, inspired him to resume his efforts. But poetry fell by the wayside for almost forty years as a busy career in international development consumed his life. As retirement approached, however, Richard's dedication to poetry returned and he now shares a "poem of the week" with close to 200 readers, has self-published one book, Explorations (Antrim House Books), and is working on another. Learn more about Richard at www.greenepage.net.
Wilda Morris:
Love the poems. Love the comments. My hair is silver and I hope . . . .
Posted 02/04/2016 03:07 PM
TheSilverOne:
Ah, my hair is silver. Hope someone kisses my cheek this morning.
Posted 02/04/2016 08:22 AM
Lori Levy:
Tender!
Posted 02/03/2016 04:24 PM
Caro70:
Very sweet, Richard. A tribute to love that lasts!
Posted 02/03/2016 09:21 AM
cork:
I found her at her computer early this morning and kissed her cheek.
Posted 02/03/2016 08:33 AM
mjorlock:
Great poem, Richard. I feel the same way about my wife...though silver is not her color.
Posted 02/03/2016 08:14 AM