When "Hi" replaces "Dearest,"
I sense the jig is up.
Some other chap has claimed your charms.
The "Hi" is cover-up.
Oh, subtlety in texting,
How cleverly you're used.
You leave me obfuscated
And thoroughly confused.
© by Edward Hujsak.
Used with the author's permission.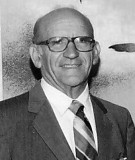 Edward Hujsak (1925 - 2018) was born in New Hampshire to a Polish farming family. A chemical engineering graduate of the University of New Hampshire, Ed worked on propulsion systems at General Dynamics during development of the Atlas and Centaur rockets. He was propulsion engineer on John Glenn's famous orbital flight and served as chief of preliminary design at General Dynamics Astronautics Division for ten years, accumulating more than a dozen patents in the aerospace field. In addition to his numerous engineering achievements, Ed was a writer, artist, sculptor, and builder of furniture and musical instruments. In his spare time, Ed made more than 2000 wooden birds, dogs, and race cars for the San Diego Fine Woodworkers Association, which distributes them to sick and needy children.
transitions:
Very clever, thx for the smile ~
Posted 02/04/2016 10:22 AM
cork:
It is cruel to be obfuscated!
Posted 02/04/2016 08:48 AM
phebe.davidson@gmail.com:
Clever in the extreme---I usually don't laugh out loud this early in the day!
Posted 02/04/2016 05:18 AM