From your bright sparkling Eyes, I was undone;
Rays, you have, more transparent than the sun,
Amidst its glory in the rising Day,
None can you equal in your bright array;
Constant in your calm and unspotted Mind;
Equal to all, but will to none Prove kind,
So knowing, seldom one so Young, you'l Find
Ah! woe's me that I should Love and conceal,
Long have I wish'd, but never dare reveal,
Even though severely Loves Pains I feel;
Xerxes that great, was't free from Cupids Dart,
And all the greatest Heroes, felt the smart.
This poem is in the public domain.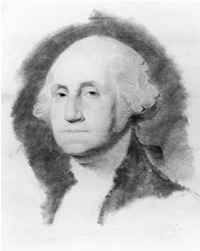 George Washington (1732 - 1799) was born in Virginia to a wealthy family that owned multiple tobacco plantations. A surveyor by trade, he made a name for himself early on and rose quickly in the ranks of the British army, ultimately changing sides to lead the American Revolution and become the new country's first president. A brilliant strategist and fearless leader, George was also, apparently, a poet. This acrostic (presumed unfinished, since there are no lines for "NDER," which would finish spelling out "ALEXANDER"), was written when he was 17 to a young woman named Frances Alexander. It was found in a notebook that the young surveyor used as a diary during an expedition in Virginia in 1749. There are those who don?t believe George actually wrote this—that he, perhaps, simply copied it into his diary from some other source. We choose to believe it's authentic.
TheSilverOne:
Wish we would have a candidate who wrote or at least read poetry.
Posted 02/08/2016 09:58 AM
Dorcas:
I didn't know GW wrote any poetry.
Posted 02/06/2016 04:47 PM
rhonasheridan:
One wonders if such feelings affect ones judgement! Hey-ho! Who'd be a politician.
Posted 02/06/2016 11:11 AM
barbsteff:
"none can you equal in your bright array" simply means "you can't equal anyone in your bright array," or "you're unparalled." That's the way some people talked, or wrote, in "the olden days." And remember, spelling was not standardized for a long time - think Shakespeare. This is rather sappy sweet, but interesting.
Posted 02/06/2016 10:19 AM
cork:
I felt the "smart" when I injected this morning.
Posted 02/06/2016 08:55 AM
Larry Schug:
Well, he said he would never tell a lie, though that itself was probably a lie. He was a politician, after all. I would like to see Presidents writing poems in place of some of the stuff they say, however.
Posted 02/06/2016 08:02 AM
Katrina:
Maybe her second name was Alexa.
Posted 02/06/2016 06:18 AM