That day the wind spun off the sea

And blew us close. We walked the rough

Geometry of boardwalk before

The boarded shells of summer pastimes.


The iced bones of the Ferris wheel

Circled above our heads; inside

The pavilion we kissed between the stalled

Merry-go-round and the lifeless pinball.


Then down and out to the water's edge

Where gulls watched silent from the pilings

As we left two still trails across

The sea's junkyard in their winter keeping.


Among the torn rags of weed and claw

You found a perfect curve of shell

Which somehow held us both alive

And soft in its smooth pearl hollow.


©
by Nils Peterson.

Used with the author's permission.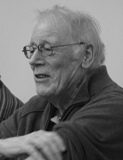 Nils Peterson is Professor Emeritus at San Jose State University. In 2009, he was chosen the first Poet Laureate of Santa Clara County. He has published poetry, science fiction, and articles on subjects as varied as golf and Shakespeare, and his work was featured in Local Habitations, a collection of work by fellow poets laureate of Santa Clara County. Enjoy reading Nils' memoir at http://www.echapbook.com/memoir/peterson/.
C King Stephens:
I'm glad I sent you that beautiful shell from Oxford Mississippi last June. And talked of textures on the beach with Judith.
Posted 02/15/2016 10:42 AM
Dorcas:
"...in its smooth pearl hollow" - how delightful. Thanks.
Posted 02/15/2016 09:03 AM
jtmilford:
The day the wind spun off the sea and blew us close. I was captured at the beginning. Beautiful Thanks
Posted 02/14/2016 08:52 PM
Shoshauna Shy:
A joy to read this.....thank you, Nils.
Posted 02/14/2016 08:35 PM
Lori Levy:
I agree with all the comments below!
Posted 02/14/2016 05:55 PM
Mary Lou Taylor:
Nils' memoir is a wonderful compilation of some of his poems turned to prose. Do read it.
Posted 02/14/2016 04:02 PM
phebe.davidson@gmail.com:
Beautifully done---very real, not a hint of saccharin anywhere!
Posted 02/14/2016 11:41 AM
Ginny C.:
This wonderful poem drew me right in. It is loving without being overly sentimental, and the imagery is fresh. I especially love the last stanza.
Posted 02/14/2016 10:48 AM
Judith Peterson:
I remember this day very well. Nils and I are lying in bed having coffee-- what a glorious valentine to get after 55 years of marriage! Judith Peterson
Posted 02/14/2016 10:00 AM
Jo:
Beautiful Poem, Nils from the first line which drew me in immediately...That day the wind spun off the sea/And blew us close--
Posted 02/14/2016 09:48 AM
Laurenepersons:
"The iced bones of the Ferris wheel"--how perfectly evocative!
Posted 02/14/2016 05:44 AM
Katrina:
The beauty of this poem seems almost stolen.
Posted 02/14/2016 05:00 AM